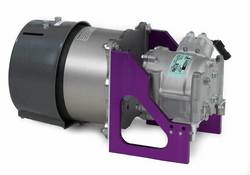 In many cases, installing our equipment is an upgrade from the original equipment. You will get increased cooling capacity using far less energy
Temple, PA (PRWEB) June 6, 2008
eCycle announced two air-conditioning configurations that operate on low voltage (12 - 24VDC). These units offer users powerful and reliable air-conditioning that operates directly from batteries or in conjunction with an auxiliary power unit (APU). eCycle's BAC utilizes a Sanden high efficiency scroll compressor.
The low voltage systems produce up to 24,000 BTU's. Two configurations are available: An under-the-hood module that integrates directly with the vehicle's climate control system and an auxiliary stand alone unit. Both configurations feature a state-of-the-art, Solidslot brushless motor for high efficiency operation. Manufacturers and users can realize reduced costs with these high power density systems.
eCycle has been close coupling its line of SolidSlot brushless/motor generators to air-conditioning compressors for several years with outstanding results. Most recently, eCycle has been contracted by aerospace companies to assist in providing a solution for non-flight critical air-conditioning in very light jets. After preliminary testing, suppliers reported that eCycle's compressor drives performed three times better than any previously tested equipment.
"We're offering low voltage battery air-conditioning units, because we manufacture the key component: the SolidSlot™ brushless motor/generator", said Daniel Sodomsky, eCycle's President and CEO. "We believe eCycle's low voltage battery air-conditioning unit is a superior product in both design and performance and will set new standards in climate control technology," he added.
The Environmental Protection Agency (EPA) has identified battery air-conditioning (BAC) as an important idle reduction technology as part of its SmartWay Transport partnership program in which eCycle is an Affiliate. Although Toyota and others use high voltage air-conditioning units in hybrid automobiles, commercialization of BAC in the transportation sector has been slow. eCycle believes that implementation of BAC has been hindered because, until now, product offerings have not fully met the requirements of the transportation sector.
Mobile air-conditioners have a significant impact on the Earth's climate and consume more energy than any other auxiliary vehicle equipment. In the United States, vehicle air-conditioners consume seven billion gallons of fuel every year, equivalent to over 16 million metric tons of carbon (MMTCE). eCycle's air-conditioning systems can help reduce emissions and improve the environment.
"An efficient climate control system is an important part of an idle reduction strategy", said Michael Sharer, eCycle's Senior Vice President of Marketing. "In many cases, installing our equipment is an upgrade from the original equipment. You will get increased cooling capacity using far less energy", he added.
eCycle's air-conditioning solution can support a broad range of applications. Some of these include trucking, transit, locomotives, recreational vehicles, back-up systems, off the grid power and marine. Field testing and demonstration programs are available on a first come first serve basis.
eCycle's air-conditioning systems start at $1995 and are available directly from the factory.
Features

Powered by SolidSlot brushless motor
Lightweight, reliable
Stationary or portable applications
Low voltage operation - 12 or 24VDC
Runs on low voltage (battery power). Off grid operation possible with a DC gen-set
More powerful and efficient than any product presently on the market
2 models available: Auxiliary and under-the-hood module
About eCycle (http://www.ecycle.com):
Established in 1996 and located in Temple, PA, eCycle produces a line of advanced brushless motors and generators, which have a wide range of applications in commercial, industrial, and consumer markets worldwide, particularly for mobile applications.
Contact:
Michael Sharer
eCycle, Inc.
4700 North 5th Street
Temple, PA 19560
http://ecycle.com
###