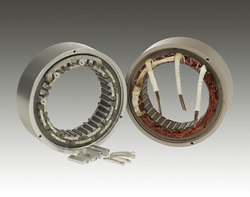 It's an honor to be recognized by this exclusive forum
Temple, PA (PRWEB) October 7, 2008
eCycle, Incorporated, a manufacturer of advanced brushless motor/generators and controls, announced today that is has been named as one of the top 50 emerging companies by Funding Post's 5th annual Pitching Across America Competition.
Over the past 12 years, eCycle developed and manufactured its core product, the SolidSlot™ brushless motor/generator. The SolidSlot™ is unique because unlike conventional brushless motors and generators that use copper windings, eCycle uses trapezoidal bars of aluminum (see inset picture). The result is a motor/generator that delivers more than twice the power at less than half the weight and doubles the efficiency of legacy products and is easier to use. It's ideal for mobile applications requiring a combination of small size, low mass and efficient performance. When integrated into mobile platforms, SolidSlot™ motor technology enables vehicles to use energy much more efficiently.
Funding Post, a company that has been introducing entrepreneurs to investors for almost 5 years, established the Pitching Across America competition, in which 100 Venture Capital Funds and Angel Investors served as judges voting on 300 business summaries from emerging companies nationwide. Emerging companies were evaluated on a scale of 1 to 10 and judging criteria consisted of several key points including: the professionalism of the written summary, current stage of development, competitive advantage and need in the marketplace, feasibility for success, and whether the company is "VentureWorthy™."
"It's an honor to be recognized by this exclusive forum", said Thomas H. Tessier, eCycle's Vice-Chairman and CFO. "Not only have we been chosen to be in the top 50 but eCycle is proud to be the only company acknowledged in Pennsylvania."
Recently, eCycle has been working with the transportation sector to develop and implement high efficiency battery accessory drives (battery air-conditioning, hydraulic motor pump sets, integrated starter alternators) to reduce unnecessary diesel idling. eCycle products are valuable tools in reducing petroleum consumption and pollutant emissions, and can also result in significant cost savings for vehicle operators. The combination of higher fuel costs and enforcement of environmental regulations create a significant market opportunity, as battery accessory drives become a necessity.
Target customers include original equipment manufacturers (OEMs), owner-operators and end users of long haul (Class 8) trucks, medium and light duty trucks, RVs, buses, boats, aircraft, military and other vehicles, and customers requiring back-up power in buildings, residences and for other stationary applications.
About eCycle (http://www.ecycle.com)
Established in 1996 and located in Temple, PA, eCycle produces a line of advanced brushless motors and generators, which have a wide range of applications in commercial, industrial, and consumer markets worldwide, particularly for mobile applications.
About FundingPost (http://www.FundingPost.com)
For over five years FundingPost has worked with thousands of Angel and Venture Capital Investors and Entrepreneurs. With over 5,000 CEOs and 600 Venture Funds attending events in 15 cities nationwide; a quarterly Dealflow magazine; and a deal-exchange website that has, on average, seen an introduction of an Investor to an Entrepreneur every business day since its inception; Funding Post believes that it is important to reach investors in every medium possible - both online and offline, and is experiencing strong growth as the venture capital markets continue to improve worldwide.
###