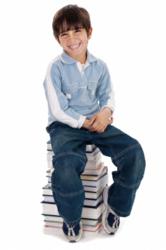 My medical research and my son contracting this condition provoked me into writing this book series to help others.
Denver, Colorado (PRWEB) November 15, 2012
Eczema is a skin condition that over 60 percent of people struggle with according to medical research. One medical researcher has decided to put her research into website and book form and reveal to eczema suffers the holistic methods for healing this skin condition. Rachel Anderson did not want her son to grow up like she did suffering from eczema and the emotional trauma that it can cause. The new Eczema Free website has been launched to help her nine year old son beat eczema. The website and book can be access here online.
"I suffered from eczema for most of my life," said Rachel Anderson in her book series. "My medical research and my son contracting this condition provoked me into writing this book series to help others," Anderson added.
As a skin care specialist that had a background in medicine, Rachel decided that there was more that she could do to help cure her own eczema as well as her son's. The research that was performed was exhaustive although the benefits were worth the effort according to Rachel on her new website.
The itching, burning and redness that comes with eczema is only part of the discomfort that someone can feel. The dry and scaly skin is one side effect to this skin condition that can flare up usually without warning and remain for weeks or months at a time. The new eczema free website was designed in part to help others that are struggling with this condition to find natural treatments.
"I could have cried when I found out my son would be just like me," wrote Rachel on her website. The emotional devastation that severe eczema can bring is one of the things that cannot be cured with over the counter creams or topical skin solutions. Part of the new book and website series instructs men and women on how to cope with eczema while applying the natural treatments to cure it.
As a bonus to website visitors and those that choose to purchase Rachel's book, a complete guarantee is offered. Since the research that Rachel has made is her own and her results might not be typical, a refund is offered to men or women that do not achieve success with the methods taught inside of the eczema free book to cure eczema.
About Eczema Free
The Eczema Free website was created by Rachel Anderson in part for her son that was suffering from eczema. This website is now a resource for men and women to use to find natural solutions for eczema online. The information that is put on the website and inside the Eczema Free book is designed to help those with moderate to severe forms of this skin condition. The helpful treatments are a combination of natural methods that are proven for some people to cure the skin within two to four weeks after application. The Eczema Free book and website are one of the leading resources for holistic healing methods for eczema online.