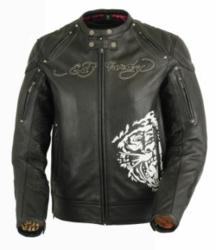 Ed Hardy Leather Motorcycle Jackets are made with only the highest quality leather and only available for a limited time.
(PRWEB) April 23, 2013
The iconic biker jacket is back and Street Leathers of Oregon, Inc. has limited edition Ed Hardy Leather Jackets only available online.
Whether wearing it as the trendy fashion layer or actually revving up and hitting the road, Street Leathers of Oregon has the top quality leather styles that Ed Hardy jackets are known for. These motorcycle jackets, which pair classic styling and tattoo culture, have been worn worldwide by celebrities and musicians. Colorful embroidered graphics, inspired by world-renowned tattoo artist Ed Hardy, enhance these jackets that are made with the finest soft-milled cowhide and signature details.
"These are designed to be fashionable as well as for safety," said Pati Hanson, owner of Street Leathers of Oregon, Inc. "You not only look good, but you're going to be well protected. We are known for having women's riding jackets always available. This is the first time we've had the Ed Hardy line."
Street Leathers of Oregon has Ed Hardy jackets and vests styles for men and women featured on its website. These leather jackets are a limited edition, and Hanson said "when they are gone, they are gone." They also are offered at a very special price, with jackets selling at $299 and vests at $179.
The store, which opened in 2005, is known for its extensive selection and services.
"In our valley, we are the only motorcycle shop that carries as much leather as we do," Hanson said. "We are also known for our leather repair."
Hanson said she wanted all those great designs and services that have made her southwest Oregon store so popular made available to more customers. What better way to do that than online, she said. The website, http://www.streetleathersoforegon.com, makes it a quick and easy way to buy the hottest trend on the runways.