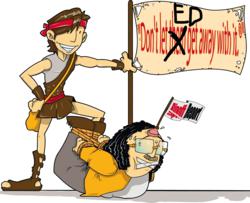 Ed Magedson, has lied about the only material aspect of your case.
Sacramento CA (PRWEB) November 15, 2012
The Motion cited was filed in case #: XCENTRIC VENTURES, LLC vs LISA JEAN BORODKIN and JOHN DOE BORODKIN, husband and wife. No. 2:11-CV-01426-PHX-GMS United States District Court For The District Of Arizona.
The dismissal comes soon after Lisa Borodkin's email communications with Ed Magedson's attorney and cc'd the Rexxfield's CEO Michael Roberts, where she stated: "As I told Magistrate Bade last week, it appears that your client, Ed Magedson, has lied about the only material aspect of your case." [Date: Tue, Nov 6, 2012 at 8:56 AM]
With respect to Ed Magedson's claims that Borodkin engaged in frivolous prosecution against him for extortion and other wrongdoings, the court found that "the claims she brought on behalf of her clients were not so lacking in probable cause as to be utterly frivolous."
The allegations follow a recent finding by the Florida appeals court* that the business practices of Ed Magedson's RipOffReport.com are "appalling".
*[No. 3D11-707 Lower Tribunal No. 09-68539 (Florida)]
Source: Rexxfield Internet Law & ISP Social Responsibility Watch:
Michael Roberts is an Internet Harassment Victims' Advocate with Rexxfield.com. He is an Internet industry watchdog committed to bringing important legal developments to the public's attention. He works with victims who have had fallacious complaints filed online by competitors engaging in tortious interference. He recently launched a RipOffReport.com victims support and action group.