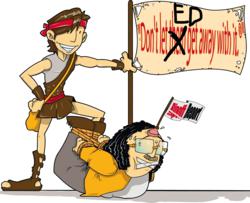 there is an apparent love affair between Google and RipOffReport.com
Sacramento CA (PRWEB) October 15, 2012
In an opinion filed December 28, 2011, the Third District Court of Appeals for the State of Florida declared that Ed Magedson's Xcentric Ventures, DBA RipOffReport.com demonstrates "appalling" business practices. The following verbatim excerpt clearly conveys the distain held by the Judges for the infamous website:
"The business practices of Xcentric, as presented by the evidence before this Court, are appalling. Xcentric appears to pride itself on having created a forum for defamation. …..Xcentric retains no general counsel to determine whether its users are availing themselves of its services for the purpose of tortious or illegal conduct." [p4. Para 2 No. 3D11-707 Lower Tribunal No. 09-68539]
Commenting on the finding, Roberts said "this finding is in diametric opposition to the status Ed Magedson previously enjoyed as a mainstream media darling and consumer advocate".
In that wake of this finding, Rexxfield's founder Michael Roberts purposed to investigate what he described as "an apparent love affair between Google and RipOffReport" with respect to the impermeable stronghold RipOffReport.com pages seem to command on page 1 of Google search results, despite the fact that "No checks are in place to ensure that only reliable information is publicized." [p4. Para 2 of FL ruling]
Roberts published his findings and hypothesis "RipOffReport.com and Google's Humiliation Algorithm" via YouTube.com recently and it was an instant hit. Roberts said "I posted the video thinking that maybe few hundred people, over a span of several years, might find some understanding about the battering their reputation receives 24/7 if they are unfortunate enough to be listed on RipOffReport.com". He said "the fact that a boring video about such a narrow subject has had almost 4,000 views in the last few months speaks volumes about the severity of the problem"
Roberts' video exposé consistently ranks at the top of the search results for "RipOffReport.com", out of 244,000 possible results, according to current Google video searches.
Roberts' hypothesis explaining the favor RipOffReport.com receives from Google is likely influenced by the fact that RipOffReport.com is an affiliate partner of Google's powerful online AdWords platform. He said "it stands to reason that both Google & RipOffReport.com enjoy financial gain at the expense of the businesses that have unverified complaints filed against them when visitors click on Google Ads displayed in any of the 1.13 Million RipOffReport.com pages currently indexed by Google.com"