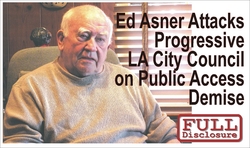 The city's disinclination to share this wealth for almost 25 years sounds almost criminal to me.
Los Angeles, CA (PRWEB) January 6, 2009
Full Disclosure Network® presents a 10 minute video news blog with Ed Asner who attacks the City government and the "progressive" Los Angeles City Council members "who have failed to protect the public access system and free speech". He challenges them to stop the neglect of public cable access television channels, and to start funding the facilities which have guaranteed free speech here in the heart of the media world and Hollywood, California. Watch the 10 minute video on this URL: http://www.fulldisclosure.net/Blogs/66.php.
Actions Almost Criminal?
Without opposition from the Mayor, the City Attorney and the City Council of Los Angeles, Time Warner Cable has been allowed to shut down public access cable channels in L.A. as of January 1, 2009. These channels have been provided to the public under the Cable Operator Franchise agreement for the past 25 years. When State Legislation passed in 2007 allowing Time Warner to "opt out" of providing the public access facilities in lieu of an additional 2% or $5 million franchise fee, the City seized control. In December the City approved a plan to retain only four of the existing 14 cable channels for government use and not one single channel for public use.
City Diverting Millions In Cable Franchise Fees:
Asner was especially critical of the City's 25 year practice of diverting the vast majority of $25 million in annual cable franchise fees, paid by the cable operators, into the city's general fund. Asner's criticism points toward the misuse of cable fees that should have been used to support the public access channels. He said, "The city's disinclination to share this wealth for almost 25 years sounds almost criminal to me."
Asner Joins Political Powerhouse Sheinbaum:
Ed Asner is considered one of the most prominent activist/actors of his time. He has emerged as the second political powerhouse to voice concern about government actions that could destroy America's public access cable television system. He joins Stanley Sheinbaum, the former UC Regent and President of the LA Police Commission who has been waging a campaign to convince the California Attorney General Edmund G. Brown, Jr. to file for injunctive relief to stop the closing of the Time Warner Cable public access channels in Los Angeles.
Venting Issues Of Concern:
In the video Ed Asner tells Full Disclosure of his concern that the City has forgotten the importance role of public access facilities to provide for the public's right to "venting" issues of concern by exercising their First Amendment Rights.
###