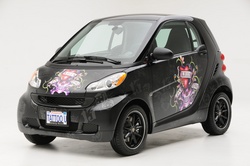 These Ed Hardy Smart Cars are rolling works of art and are the ultimate statement in individual expression. We are honored to have partnered our talented crew with Christian Audigier who is truly a trendsetting superstar
LOS ANGELES (PRWEB) August 26, 2008
Available in Ed Hardy satin Black or Ed Hardy satin White, the Limited Edition Ed Hardy Smart Cars are custom-built upgrades to a standard Smart Car and are personally autographed and individually numbered by famous French fashion designer, Christian Audigier. Each Ed Hardy Smart Car has been given a seven layer Ed Hardy tattoo inspired satin paint scheme, premium leather seats with Ed Hardy® tattoo embroidered suede inserts, integrated Bluetooth and navigation systems, twelve piece interior accents finished in piano black gloss and a specialized Ed Hardy® edition Kenwood® 6.1" touch screen AM/FM/CD/DVD player just to name a few.
"These Ed Hardy Smart Cars are rolling works of art and are the ultimate statement in individual expression. We are honored to have partnered our talented crew with Christian Audigier who is truly a trendsetting superstar," said Gabi Mashal, president of Al & Ed's Autosound.
The Ed Hardy Smart cars are loaded with exterior upgrades including, Ed Hardy edition badging, satin black multi-spoke wheels with the Ed Hardy "Tiger" center hub cap, chrome dual tip exhaust system providing a 6hp and 14ft lbs. torque performance increase, designed by Doug Thorley Headers®. Interior upgrades include suede upholstered upper dash, premium leather and suede upholstered lower dash, red contrasting stitching throughout the interior, and plush floor and rear mats with an embroidered Ed Hardy® logo.
In addition, the Ed Hardy Smart Cars have been given a premium audio system with the Ed Hardy edition Kenwood® 6.1" touch screen AM/FM/CD/DVD player, integrated Garmin® touch screen navigation system, Bluetooth® wireless hands-free car kit, iPod® and iPod video interface, Sirius® satellite radio with 3 months of trial service included, Focal® 6.5" component speakers with custom installed tweeters, Focal® amplifier with 400 watts of power and JL Audio® 8" subwoofer in custom, under-dash enclosure.
The Limited Edition Ed Hardy Smart Car upgrade package retails for $22,765 + tax and does not include the price of the car. For more information visit, http://www.edhardysmartcar.com
About Al & Ed's Autosound
Founded in 1954, Al & Ed's Autosound has grown to become the largest mobile electronics specialist with more than 20 Southern California stores. As a recognized leader in the mobile electronics industry, Al & Ed's Autosound has been an instrumental partner in the pioneering of innovations such as FM radio for cars, cassette players for cars and the first car alarms, and is viewed within the mobile electronics industry as a barometer for the industry in Southern California. For more information, visit http://www.al-eds.com
MULTIMEDIA GALLERY http://www.businesswire.com/cgi-bin/mmg.cgi?eid=5764173