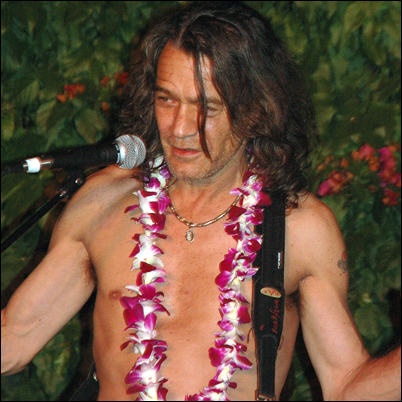 Beverly Hills, CA (PRWEB) July 26, 2006
It was Eddie Van Halen playing another packed house- a small courtyard at the House of Petals floral studio in West Hollywood. And this time he was alone and some of the audience members were sitting on the edge of the stage, including members of the Beverly Hills People staff on hand to cover this concert.
Such was the intimate setting for the latest Eddie Van Halen performance on a warm summer night in his home town of Los Angeles. Accompanied by keyboardist Patrick Leonard, Van Halen's guitar still managed to sound like he was backed up by the rest of his missing band.
Mostly avoiding Van Halen hits in his set, Eddie wooed the crowd with his trademark quick and sharp licks. The gathered audience responded with ovations and wide eyed gasps, still the same reaction to Van Halen guitar playing after all these years.
The intimacy of the venue seemed almost surreal considering that Van Halen is synonymous with screaming stadiums of adoring fans. BeverlyHillsPeople.com has posted photos of this event on its website. Visitors can go view these photos for free at Beverly Hills People's site.
The House of Petals will be continuing its Summer Event Series until the fall.
Beverly Hills People is an online lifestyle publication featuring luxury real estate, fashion, entertainment,and restaurants.
###