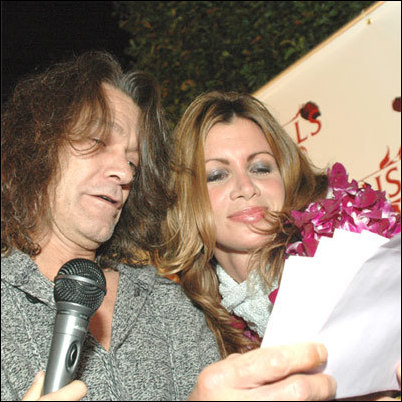 Beverly Hills, CA (PRWEB) October 7, 2006
Eddie Van Halen played solo and hosted an anniversary party at Hollywood's House of Petals floral studio that also featured a lingerie burlesque show featuring Harlottique, a burlesque dance group. Van Halen's single song set was the second time in three months he has shown up to play at the floral studio owned by his friend, actress Joey House. The October 4th event also featured a musical performance from 1980's rap star Ton Loc.
The presence of Ton Loc and Eddie Van Halen at the same party fueled speculation about a joint performance that night with Van Halen playing guitar to Loc's vocals. That speculation ended when Van Halen left the stage after one instrumental song, ending his show for the night.
Ton Loc then took the stage for several songs that included his signature hits "Funky Cold Medina" and "Wild Thing", sans Eddie Van Halen.
Beverly Hills People staff were on hand to cover this event. Visitors to Beverly Hills People can view photos and video taken of the party.
As questions loom about the future about Eddie Van Halen's namesake band, the famous guitarist continues to pursue his own solo music projects, including recent efforts scoring adult movies and making plans for a solo album.
Beverly Hills People is an online lifestyle publication featuring luxury real estate, fashion, entertainment,and restaurants.
###