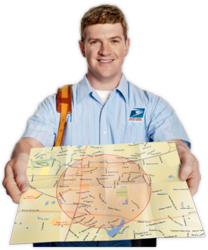 Miami, FL (PRWEB) August 09, 2012
What Is EDDM
There's a new direct mailing service offered by the United States Postal Service called EDDM. This acronym stands for Every Door Direct Mail and is a service for small businesses to target local neighborhoods. This service is a unique opportunity for companies to spread the word about the products or services they offer. In the past many businesses have utilized the Internet to do this. However, with the Internet boom online ads are more crowded and many people are not paying attention to them anymore because of this. Every day direct mail postcards and flyers are received by individuals to promote businesses and are one of the most successful ways to advertise a business.
How EDDM Works
One of the hardest parts about having a business is advertising and letting others know what they offer the community. EDDM can help a business do this easily. First, a business will have postcards or flyers printed up with pertinent information about their business. Information that should be included on the postcard includes the name, address and phone number of the business, as well as a brief overview of the business or service. The business will then have the post office mail these postcards to local neighborhoods in hopes of letting households know about the services they offer. Some businesses will also offer a coupon or incentive on the card, such a free gift, to coax individuals who receive the postcard to patronize the business.
EDDM Has Many Benefits
There are many benefits to a business utilizing EDDM. The biggest benefit is that it is a lot cheaper than doing a standard mass mailer to local neighborhoods. Businesses do not have to open up a postage permit just to mail out the postcards. Postage permits are expensive and cost over $400, which might not be an expense a business that is just starting out or struggling can handle. By comparison EDDM costs less than 15 cents per piece mailed. Also, businesses don't have to search for specific addresses to mail out postcards or flyers too. Instead, the postal worker that is delivering the mail will just place a flyer or postcard in the mailbox of each person that is on their postal route. This service is a way to reach a large amount of people in a short period of time.
How EDDM and Services from Egprint.net Go Hand In Hand
To utilize EDDM, the business will need to find someone who is versed with EDDM printing and will need to obtain these services from a reputable printing company. Egprint.net, a wholesale printing company, can do that for you. Egprint.net is an online printer that is located in Miami, Florida. They can print products for businesses anywhere in the world. They offer a wide array of products such as business cards, postcards and brochures, as well as a 24 hour turnaround time and easy online ordering. Egprint.net has prices that are very affordable even for those businesses that have a low budget for marketing services. Free Design Templates are also available, and customers can order a sample request to ensure that they are getting what they want before they commit to ordering it. This will prove to be a return on investment for many businesses.
Businesses That Might Benefit From Utilizing EDDM and Egprint.net
Many businesses can benefit from ordering products from egprint.net and utilizing EDDM services. Businesses such as restaurants, hair salons and dentists may offer great products or services, but struggle to let individuals in the community know where they are located and what they offer. By ordering postcards using egprint.net and mailing them to neighboring households by utilizing EDDM services, these businesses can let these households know that they are in the area and wish to gain them as customers. By sending out an EDDM postcard that was printed utilizing egprint.net, the business can rest assured that they will successfully let others know about their business and gain customers.
How to Get Started With EDDM
To get started, a representative of the business will need to go online and create a USPS business account through the USPS' Business Customer Gateway. They will need to write down their Customer Registration ID because they will need it for the form PS Form 3587. Then they can use the online tool to choose mailing routes to send their promotional full color postcards to. This tool will estimate the number of households and businesses in the area so that the business can estimate the amount of postage needed to mail the postcards. Afterwards the individual is ready to contact EGPRINT.Net. AT this point they can help you with all your design, and printing needs. Start growing your business today, and call EGPRINT.net, Your Print Super Store.