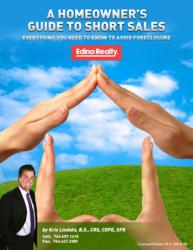 "These guys were able to get my short sale done in 35 days. I only had 60 days left in my redemption period. These guys stepped up to help when I needed it most," says Julie R. Edina, MN
Eden Prairie MN. (PRWEB) September 16, 2012
A top Eden Prairie short sale agent, Kris Lindahl is one of Edina Realty's top Minnesota and Wisconsin Short Sale Agents, who released the new "Homeowners Guide To Short Sales" book. "This kind of information is so relevant today. Going to talk to an agent or someone knowledgeable about the short sale process for this type of short sale information was the only option people had, until now," Kris Lindahl explains. Kris Lindahl, B.S., CRS, CDPE, SFR goes on to say, "Now with my new book I have given people the advantage of getting the short sale answers they need, 24/7."
"With the quickly approaching expiration date of the 2007 Mortgage Debt Relief Act, homeowners are scrambling to get answers about the short sale process. If there is not an extension before the end of the year, homeowners stand to owe tens of thousands of dollars in additional taxes from the short sale of their home," warns Kris Lindahl. "My new book the "Homeowners Guide To Short Sales" will be a great help to these homeowners," Kris Lindahl feels.
Get a complimentary copy of Kris Lindahl's new "Homeowners Guide To Short Sales" book by visiting HomeOwnersGuideToShortSales.com, which is full of information on the short sale process. "There is no other book of its kind, that is why the book will be such a great help to homeowners," Kris Lindahl says.
"The Kris Lindahl Short Sale Team, and myself care about helping the homeowner, and that is what sets us apart, and allows us to have the successful results that we get. We believe in focusing on the client's best interests, which paves the way for a successful short sale experience," Kris Lindahl explains. A top Eden Prairie short sale agent, Kris Lindahl continues to say, "Our desire for customer satisfaction was the inspiration behind the new "Homeowners Guide To Short Sales" book, because when homeowners have a better understanding of the short sale process, they will be able to make a more informed decision."
"Well-done guys! Thanks for allowing me to sleep at night. :-) I tried contacting my lender for months to get a loan modification with no success. These guys were able to get my short sale done in 35 days. I only had 60 days left in my redemption period. These guys stepped up to help when I needed it most," says Julie R. Edina, MN
"You guys were great. Being a single mom I was a bit scared and overwhelmed with the whole foreclosure and short sale process. I checked my credit report last week and it only dropped 20 points! The best part is you guys were successful in getting my $120,000 deficiency judgment waived," says Amy S. New Brighton of Minnesota about Kris Lindahl, the top Eden Prairie short sale agent.