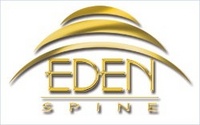 Dr. Rietiker has an impressive track record of accomplishments
LAKE MARY, Fla. (PRWEB) October 10, 2008
"Dr. Rietiker has an impressive track record of accomplishments," said Guillaume Viallaneix, Eden Spine's CEO. "He is an extremely respected executive in the medical technology industry and, like Eden Spine, he is focused on people and innovation. We share the same vision about the global direction of the spinal industry, and we are confident that Dr. Rietiker's insights and 25 years of experience—as a top level executive and a physician—will be an extremely valuable asset in providing strategic guidance to Eden Spine as we evolve into our commercialization phase."
"Eden Spine is clearly one of the most innovative spine companies today," said Dr. Rietiker. "I feel privileged to join this exciting and dynamic team and look forward to working closely with the three founders—Guillaume Viallaneix, Randy Roof and Mourad Ben Mokhtar—in the next important phase of Eden Spine's growth."
Dr. Rietiker, 52, is a Swiss citizen who qualified as a medical doctor at the Medical School of the University of Zurich and then spent give years in medical practice before moving into the healthcare industry. He held various positions with increasing responsibility in marketing and general management with Roche, Boehringer Mannheim, and Schering Plough before becoming Vice President and General Manager Europe for Covance Central Laboratory Services.
In 2001, he was appointed President and CEO of Sulzer Medica (later Centerpulse) and was instrumental in resolving a landmark legal settlement in a major U.S. litigation as well as substantial business problems that threatened the existence of the company. In 2003, prior to the company's acquisition by Zimmer, Dr. Rietiker left Centerpulse to assume the role of Executive Director and CEO in two start-up companies.
Dr. Rietiker has been a Senior Advisor to the Corporate Finance Team of Brown Brothers Harriman since 2005. Additionally, he serves as a Director of Contract Farming India AG and Inovio Biomedical Corporation. In 2007 he founded AurigaVision AG based in Zug, Switzerland, which serves as an investment platform with the ultimate goal of turning visions and technologies into successful businesses.
"As a Director, Dr. Rietiker will play an active role in our organization," says Guillaume Viallaneix, CEO. "We consider him a full and an active member of the Eden Spine team, and we all look forward to his contribution on a multitude of levels, from corporate strategy, finance, regulatory affairs and intellectual property, to clinical trials and other important areas."
Eden Spine LLC, a privately held spine company, is creating shareholder value by simultaneously emphasizing Sales and R&D. As an R&D organization focused on motion preservation technologies, Eden Spine has developed three new-generation, nonfusion technologies—the WellDisc total disc replacement; the FX 1 Dynamic Rod; and, the Wellex Interspinous Technology. As a Sales & Marketing organization, Eden Spine distributes in the U.S. a comprehensive range of FDA-cleared fusion technologies.