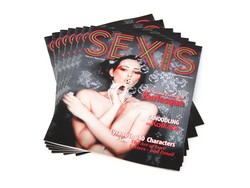 We take sex positivity to a whole new level. We believe that sex is as much about society, fashion, politics, religion and communication as it is about inserting the tab of your choice into the slot of your desire
Monroe Township, NJ (Vocus) February 9, 2010
EdenFantasys.com, the online adult novelties store, is proud to announce their online magazine SexIs has gone into print and is available nationally as a polybag edition with the February / March issue of Bust magazine. Inside, readers will find 16 full-color pages of insightful, provocative and humorous fare, such as The Bloggess's take on what people are really thinking while having sex; Tristan Taormino on sex education and empowerment; an inside look at NYC's Museum of Sex; a focus on sexuality and repression in India, insights into the art of Zofia Szeretlek' erotic photography, plus a feature on the second coming of Burlesque. In addition, author/poet G.L. Morrison details how to balance Twittering with the art of writing a perfect love letter, and EdenFantasys community members dish on their favorite sex toys.
Sex and culture intersect on nearly every avenue of our daily lives. Matthew Lewis, Editor of SexIs explains the inclusive approach of the magazine: "We take sex positivity to a whole new level. We believe that sex is as much about society, fashion, politics, religion and communication as it is about inserting the tab of your choice into the slot of your desire," Lewis said. "We refuse to buy into the latest fads, and call foul whenever necessary - and we don't think that plausible sex education stops with the phrase: 'and that's how babies are made.' "
SexIs online is updated daily, with provocative new articles and column posts that keep readers current and thinking deeply. Weekly columns include The Bloggess, who brings her unique wit and wisdom to the frontier of sexuality; "Tuesdays With Nina" - exclusive weekly video dish on all things carnal from XXX legend, Nina Hartley; "Dr. Dick on Demand" dispensing no-nonsense sex advice…and so much more.
Why would an online magazine go into print? Because like sex, print is tactile, sensual and engaging. While SexIs excels in an online format, there's something to be said for the classics, as well. SexIs print editions will serve to reach new audiences, as well as give faithful readers something to hold onto - literally!
To get a copy of SexIs in print, simply pick up the latest issue of Bust magazine, and you'll find SexIs polybagged with it. (Available at: Barnes & Noble, Borders, B. Dalton, Books-A-Million and Whole Foods), or fill out a request form by clicking here, to receive a free copy of SexIs—sent directly via post!
The next edition of SexIs print will be 24 full-color pages, on shelves nationally May 25th polybagged with the June / July issue of Bust Magazine.
For questions or comment, contact:
Matthew Lewis - Editor
Judy Cole – Special Projects Editor
###