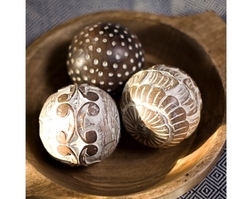 We are very excited to introduce these fashionable new lines of recycled glassware, handmade frames and photo albums, soy candles and natural home décor items to our collection
Seattle, WA (Vocus) September 2, 2010
One of these companies recently selected by Eden Home is "nkuku" – a line of Fair Trade, handmade, natural dishes and green home décor line. Nkuku passionately supports Fair Trade with its membership in the World Fair Trade Organization and by working with co-operatives and artists that use traditional techniques and ancient methods of manufacturing such as paper making, block printing and hand-loom weaving.
Other natural home products recently added to the Eden Home Organic line up include recycled glasses, bamboo bowls and cutting boards, soy candles, dishes and candle holders made from recycled and natural materials and other natural home décor items from companies such as the Himalayan Trading Post, JK Adams, Think Natural, The Pomeroy Collection, Core Bamboo, Sustainable Threads, Pom Pom Bedding and Vance Kitira Home.
"We are very excited to introduce these fashionable new lines of recycled glassware, handmade frames and photo albums, soy candles and natural home décor items to our collection" says Alexandra Smith, owner and senior buyer at EdenHome.com.
Eden Home Organic uses strict criteria to select products for their site and provides customers with their 'Seal of Assurance' coding system that identifies each product for its organic, natural, eco-friendly, Fair Trade or Made in USA qualities.
"Each product line must meet our criteria for selection and we also look for companies that have a unique story to tell" adds Ms. Smith.
In addition to organic and natural home products, EdenHome.com is the one place to go to find the largest selection of organic brands online including organic bedding, clothing, organic baby and kids gear, organic gifts and more.
Visit EdenHome.com today and save 20% off any purchase until September 15th, 2010. Just enter code PRM20 to receive your discount.
About EdenHome.com
EdenHome.com offers organic and natural yet stylish products for you, your home, bath, bed and baby. With the most comprehensive selection of natural products online they are continually expanding their selection to maintain their position as the leader in the organic products market. Every item offered is organic and pure without losing its beauty. EdenHome.com is a great place to find organic products for your family without sacrificing comfort or looks. If it's organic and stylish, you'll find it at http://www.EdenHome.com. You can also follow Eden Home Organic on Face Book and Twitter @EdenHomeOrganic.
###