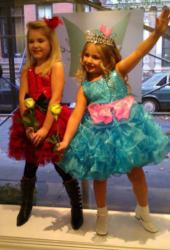 Cicciabella loves New York City and Fashion and are so excited about Isabella and Eden being together at Babestas.
New York, New York (PRWEB) July 24, 2012
International Super Star Eden Wood and German TV Star Isabella Barrett will be at Babestas 56 Warren Street NYC on Thursday 5-7pm to promote a new line of all year round slipper boots for little fashionistas by Cicciabella. New Yorkers, Tourists and Fashion Reporters are invited to meet these two lovely ladies and receive a free charm from The Glitzy Girl. http://www.theglitzygirl.com
Last month Eden featured CicciaBella's trendy fall line of classic Western style slipper boots with a vintage twist. This Thursday New Yorkers and fashionistas everywhere will have their eyes on New York City for the new arrivals!
Children's sizes include:
SM - M (12/13 - 1/2)
L - XL (3/4 - 5/6)
About Isabella Barrett
Former Official Toddlers & Tiaras girl, model and actress, stars in a German reality show Beauty Queens International. Back in October 2011 Eden Wood retired from pageants at the age of 6 and passed her crown over to 5 year old Isabella Barrett naming her the next "it" girl. Isabella has her own pageant Jewelry line called the Glitzy Girl and is the face of a new toy line in Toys R Us.
About Eden Wood
During her tenure in the pageant world, Eden Wood was featured on TLC's Toddlers and Tiaras. Since retiring from pageants at the age of six, Eden has gone on to become a mini mogul. Amongst their newest adventures, Eden coaches with her mother, Mickie Wood, at Dream Big Seminars and at their very own Glamour Goddess Pageants. As a spokesmodel for Cicciabella, she has appeared in ad campaigns and in the Cicciabella Fashion 2011 show during the New York City Fashion Week.
For more information on CicciaBella, please visit CicciaBella.com, follow CicciaBella on Twitter @CicciaBellas and Facebookers can "Like" CicciaBella on Facebook and be watching for pictures from this fashion event. Cicciabella is home of the original Cowgirl Rider®
August Preview
We have a new "breed" of riders coming in mid August that will be for both girls & boys. For all the youngins, whether colt or filly, there is surely a playful style to tickle all fancies. From roughhousing to a school field trip, these snuggly boots will make your lil one comfortable anywhere. Now for boys too!