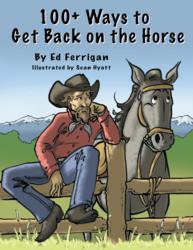 Designed to be a resource for any time of day wherever you are.
Durango, Colorado (PRWEB) February 24, 2012
Ed Ferrigan Coaching aka A Resilient Life publishes its first ebook on Resilience. The book is called 100+ Ways to Get Back on the Horse.
100+ Ways is a book on resilience. Resilience is defined as having the ability to make healthy choices moment by moment even in high states of stress. As the title suggest, the book offers 100+ ways to navigate nearly any situation life can present itself with. The book is a very easy read and a good resource for moments when stress and other life tensions are present.
The book is written in an extremely accessible and easy to read format. Each chapter begins with a brief description of a given topic (like Stress, Self Esteem, Transitions) then each of the resilience tips is in bulletted form. 100+Ways to Get Back on the Horse is excellent reference and reminder guide for the top stresses that life can present.
Download it on Amazon or Barnes and Noble book store and soon on the iBook store. A free sample 100+ Ways to Get Back on the Horse can be found at http://www.edferrigan.com.
###