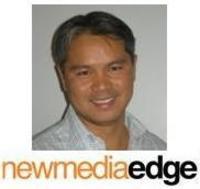 New Media Edge's first-in-class digital expertise, presents the perfect platform for us to build a fully integrated eCRM portfolio for the Thai market
Bangkok, Thailand (PRWEB) December 1, 2009
Edge Marketing, one of South East Asia's fastest growing eCRM agencies, will re-locate Nam Do to Bangkok where he will oversee all group activities in Thailand. His principal responsibility is to grow the eCRM offering of New Media Edge, Thailand. Pittapyaporn Chumroon will continue as General Manager of the country's pioneering online marketing and digital media agency, which was acquired by Edge in February of 2009.
"New Media Edge's first-in-class digital expertise, presents the perfect platform for us to build a fully integrated eCRM portfolio for the Thai market," stated Nam Do.
"I have been working with the Thai team on integration with Edge over the past eight months and am incredibly impressed with their depth of knowledge in the digital space. Now I am very excited about taking on a direct role as we continue to build new products and services for clients here."
Prior to this appointment, Nam Do was the Chief Technology Officer for Edge. As CTO he oversaw the development of the Group's digital infrastructure and the full integration of technology, measurement and creativity for many innovative client campaigns.
As New Media Edge's Managing Director, Nam Do will report directly to Patrick Looram, Group CEO who said, "At Edge we firmly believe that the future of advertising lies in the integration of eCRM skills like database marketing, segmentation and analytics with new media channels in the digital world. The great thing about the digital space is that when managed correctly it is fully accountable and easy to optimize. This is, or should be, every marketer's dream and we want to lead in this new space. With over 15 years in leading teams of digital engineers, web producers and project managers in Vietnam and his native Canada, Nam is the perfect point man to build the technical platforms and provide the leadership needed to achieve this."
About Edge Marketing
The Edge Marketing Group specializes in creating integrated Customer Relationship Marketing (CRM) programs, which utilize a variety of media channels, both on and offline. Edge's CRM programs deliver measurable and targeted marketing campaigns to qualified consumer and trade databases.
The Group includes: Edge Marketing, a fully integrated CRM-focused marketing agency; Newmedia Edge, providing strategy, creative, production and media services in the digital space and Pivotal Edge, supplier of marketing services including call centers and mail fulfillment. The Group employs over 170 staff in Singapore, Bangkok, Ho Chi Minh City and Hanoi.
Key clients include: Citibank, Diageo, HSBC, Mead Johnson, Microsoft, Pepsi, Samsung and Syngenta.
###