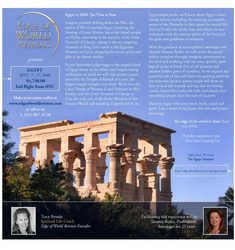 Finding the Goddess in Zeus's Cave
San Diego, CA (PRWEB) March 24, 2008
—Join Edge of World Retreats Sept. 7 – 17, 2008 for a power place tour to the sacred sites of Egypt. To facilitate this journey, EoWR has enlisted the extensive skills of Simone Butler, a professional astrologer for 25 years with a worldwide consulting practice. Simone will be guiding people to experience these sacred sites through their own astrology charts at a particularly auspicious time; the most powerful moon of the year. Simone Butler writes regularly for The Mountain Astrologer, AOL Horoscopes and the Starscroll. In 2005, a pilgrimage to Greece resulted in the publication of Simone's story, "Finding the Goddess in Zeus's Cave" in the book Greece: A Love Story. Simone has lectured extensively on astrology and teaches classes out of her home in Escondido, CA.
In the '90s we began to see the emergence of a trend where people were wanting to become more spiritual. This trend has continued and has now escalated into a desire for experiencing transformation while traveling. It has also become a hip and hot, trendy thing to be spiritual. EoWR is riding the crest of the trend toward finding deeper spirituality in life, by offering a way for those seeking deeper meaning in their travels to find it with experienced guides and itineraries, which are well planned to allow time for soaking up the spiritually charged atmosphere of these unique sites on our planet.
No roughing it here though. Our luxurious 5-Star accommodations await us for our Sept. pilgrimage to the magical land of Egypt—home of the oldest and longest-lasting civilization on earth—we will visit ancient power spots like the Temple of Karnak at Luxor, the largest temple complex ever built. We'll view the Great Temple of Ramses II and Nefertari at Abu Simble, and the Great Pyramid of Cheops at Giza—the only one of the Seven Wonders of the Ancient World still standing.
This will be a rewarding journey for people craving the kind of travel that goes beyond perfunctory descriptions of landmarks. For more information on this tour visit the website at http://www.edgeofworldretreats.com or call 619-887-6720.
Contact: Tracy Brooks 619.887.6720
Tracy8 @ cox.net
###