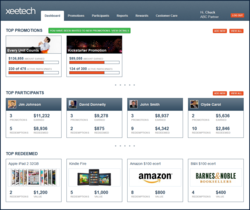 In today's business environment, solution selling is a business imperative and Partner employees play key roles in customer acquisition and retention.
Issaquah, WA (PRWEB) July 30, 2012
Edgewalk Channel Experience announces the Partner Experience Extender, a new Partner marketing rewards program, which will be demonstrated at CompTIA Breakaway 2012, booth #131. Channel incentives build lasting bonds between vendors and partners, but program complexity can deter Partners from fully participating.
In today's business environment, solution selling is a business imperative and Partner employees play key roles in customer acquisition and retention. Edgewalk Channel addresses this imperative head-on by placing the focus on a positive Partner experience. This innovative Partner rewards platform addresses the challenge with a streamlined interface and built-in customization features that keep incentive programs simple and rewarding for both Vendors and Partners.
The Partner Experience Extender, which is just one of the innovative tools in the Partner rewards platform, allows Vendors to maintain program controls while giving Partners the option to customize their experience and align with their own business processes. Partners can add users, assemble teams and create group or individual-based incentives. Vendors gain greater acceptance and visibility into program usage with real-time feedback. Additionally, the Partner Experience Extender lets Partners easily launch internal incentive programs that can help retain and motivate their employees and sales teams.
The Partner Experience Extender is being demonstrated at CompTIA Breakaway, Booth #131 on July 31st and August 1st. For more information, come to booth #131 or set up an appointment for a personal demonstration. You may also request the Edgewalk Channel whitepaper Keeping it Simple, which offers practical advice on how to simplify and streamline your partner strategy, technology and support.
In addition to the Partner Experience module, Edgewalk Channel offers five additional rewards modules that provide the flexibility to customize programs, based upon unique vendor requirements. They are:

Practice Builder
Claim Center
Deal Registration
Rewards Zone
Fraud Detection
Edgewalk joined forces with Perks.com as their technology provider based upon Perks experience in the rewards marketplace, global rewards capabilities, commitment to the user experience and their understanding of the behavioral sciences and motivation techniques.
"Edgewalk Channel selected Perks as their technology partner because of their proven record for deploying diverse incentive programs on a global scale. Perks embodies the notion of 'keeping it simple' with their elegant dashboards, yet also provides an array of rewards that fit every program need and budget."
Shari Marion-Hoff, CEO of Edgewalk Channel Experience
"Perks has chosen Edgewalk Channel Experience as our partner for Channel Solutions. Their deep channel knowledge and proven ability to get the job done, and done well, speaks for itself."
Jeff Ford, CEO of Perks.com
About Edgewalk Channel Experience:
Founded by 25-year industry veteran and successful channel marketing entrepreneur Shari Marion-Hoff, channel expertise runs deep at Edgewalk Channel Experience. Our focus is on helping technology vendors motivate Channel partners to sell more through strategies, technologies and support services that increase partner loyalty and program ROI. Our online rewards solutions, powered by Perks.com, deliver unparalleled access to thousands of brand-name incentives. For additional information, visit http://www.edgewalkchannel.com.
About Perks.com
Perks.com offers global rewards, recognition and retention programs for some of the most influential companies in the world. With a listing on the Salesforce AppExchange and a global user base of over 3.5 million people, Perks takes the guesswork out of figuring out what drives employee behavior. Rewards and Incentives all backed and supported by years of expertise and our "Science of Motivation" platform. For additional information, visit http://www.perks.com.