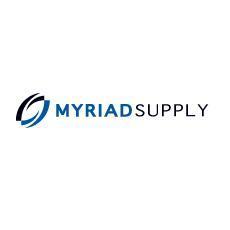 They have award-winning, proven products that simplify the installation and maintenance of converged voice and data networks.
New York City, NY (PRWEB) February 3, 2009
Myriad Supply, LLC., a leading reseller of networking equipment, announced today that they have signed a global distributor agreement with Edgewater Networks Inc., a leading provider of VoIP networking and security products for service providers and enterprises. The agreement comes after the announcement last week that Myriad hired Andrew Loscher as General Manager of VoIP Business Development, and further solidifies Myriad's efforts in the VoIP market.
Myriad Supply's extensive experience selling, testing, configuring and installing network equipment puts them in a strong position to promote the sales of the Edgewater Networks' solution within their existing customer base. In addition, Edgewater's solution will allow Myriad to market to an exciting set of new businesses looking to take advantage of the benefits of VoIP phone systems.
The Edgewater solution consists of the EdgeMarc Network Services Gateways, EdgeView VoIP Support System, EdgeConnect managed Power over Ethernet (PoE) switches and EdgeView Reports server products. The EdgeMarc Network Services Gateways are flexible, all-in-one devices that reduce cost and simplify the deployment of converged voice, video and data services for enterprises and service providers. The EdgeMarc Network Services Gateways combines multiple voice and data features including IP routing, a VoIP aware NAT/Firewall, VoIP survivability, traffic shaping, prioritization, passive call quality monitoring, active line VoIP testing and more.
EdgeView is a troubleshooting and setup tool that allows service providers to proactively manage and support their communications services. EdgeView Reports is an advanced yet easy-to-use reporting tool that provides valuable VoIP performance information to network planners, operators, product managers, executive management teams and end-users.
The partnership between the two companies hopes to take advantage of the blossoming VoIP industry, where it has been estimated that 5% to 15% of small to medium businesses would convert to VoIP technology every year for the next 5-7 years, according to a January 16 TMCnet news article. On top of that, due to the current economic conditions and as more companies look at their phone bills as a way to cut costs, VoIP sales may increase by 200-300% over previous forecasts.
"We are extremely excited to be working with a leading provider of VoIP networking solution such as Edgewater Networks.," said Andrew Fisher, CEO of Myriad Supply. "They have award-winning, proven products that simplify the installation and maintenance of converged voice and data networks."
"Myriad's increased focus on offering VoIP products is a great value add to their customers," said Dave G. Norman, CEO of Edgewater Networks Inc. "We are pleased to be working together to address the growing demand for high quality voice and data services."
For any questions feel free to contact us directly at 866-725-1025 or visit us online at MyriadSupply.com.
About Myriad Supply:
Myriad Supply is one of the leading resellers of networking equipment, including manufacturers such as Cisco, Foundry, Juniper and Polycom. For over five years, Myriad Supply has worked with thousands of customers globally ranging from Fortune 500 multi-nationals and established ISPs to early-stage startups. Myriad Supply has the largest inventory of refurbished networking equipment in Manhattan. They offer free same day delivery anywhere in Manhattan so their customers can have the networking equipment they need immediately. To find out how Myriad Supply can provide hardware and network design solutions for all networking needs visit MyriadSupply.com.
About Edgewater Networks:
Edgewater Networks develops networking and security products that ensure the secure and reliable delivery of IP based voice and video for service providers and enterprises. EdgeMarc Network Services Gateways provide a VoIP aware NAT/Firewall, with Active Line Testing, survivability and QoS. EdgeConnect PoE switches simplify administration and QoS, the EdgeView Reports Server provides visibility into VoIP network performance and the EdgeView VoIP Support System eases the setup, monitoring and management of VoIP endpoints.
Edgewater Networks' award-winning solution simplifies setup and management of converged networking applications and provides proven operational savings from the remote office to the core of the network.
For more information about Edgewater Networks, Inc. please visit the company's website at EdgeWaterNetworks.com or contact Dave Martin at 408.351.7209.
Technical Contact:
Andrew Loscher, GM - VoIP Business Development
MyriadSupply.com
646-775-6455
Media Contact:
Anthony Berardo, Director of Online Marketing
MyriadSupply.com / MyriadMemory.com / MyriadTechSolutions.com
866-725-1025
###