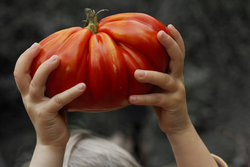 Obama is telling America that now is time to get your own edible gardens growing
Santa Barbara, CA (PRWEB) March 26, 2009
There is a growing revolution sweeping the country! From Washington State, all the way to Washington DC, people everywhere are digging in to help ease the pinch at the grocery store, and have taken to planting their own edible gardens, growing their own food, and restoring the biodiversity of the earth.
President Obama issued a powerful mandate for change, when on the first day of Spring, the first lady and a group of school children planted an edible garden at the White House, it's first since Eleanor Roosevelt had her Victory Gardens back in 1943. "Obama is telling America that now is time to get your own edible gardens growing," said William Martin, co-founder of the one million gardens program. "We are very Inspired by Obama's example, and share the hope of transitioning our nation's dependence on a globalized food system that requires huge amounts of oil to grow and transport our food, to a more sustainable, localized food production system. We have to grow beyond having our basic systems for human survival being tied to the cost and availability of cheap oil. In my opinion, Obama did nothing short of declaring a revolution in terms of how we feed ourselves and the rebirth of local food in our communities."
Within this massive shift towards local food and gardening, there is a growing movement to preserve our natural seeds. "We are seeing a huge increase in sales for our heirloom seed collections at Edible Gardens Seed Company," according to Lara Sammon, manager at the Edible Gardens seed farm in Santa Barbara. "People are wanting to have some control over their food, but more than that, they are becoming more aware of the far-reaching health and environmental impact of what we grow, and how we grow it. We specialize in the open-pollinated, heirloom varieties, and we offer a dazzling collection of some of the most sought-after heirloom varieties in the world. Especially popular this year has been our Thai Seed Collection and the Kids Garden Collection - we are nearly sold out for the season."
Heirloom seeds are the original seeds that have been feeding humanity for thousands of years. When you grow hybrid and genetically-modified seeds, you end up with plants that have lost their natural ability to reproduce true seeds that can be saved and planted again the following year. These kinds of plants, while popular, end up making gardeners and farmers around the world totally dependent on these giant agribusinesses for more seed the following season - it is a totally unsustainable approach. With heirloom seeds, you can plant and grow these tasty and interesting varieties, and then save the seeds and plant them again and again for years.
Today, seeds and food are becoming more valuable than gold. "Everyone is so focused on Wall St, but the real story of our future is playing out in the garden," stated William Martin. "Humans have tampered with the seeds to the point they have lost much of their vitality - there are hardly any natural seeds remaining." Scientists and seed experts agree that we have lost 95% of the seed varieties within the last 100 years, and former Vice President Al Gore called the loss of biodiversity "the single greatest threat to humanity's future."
As more people are becoming aware of this tragic loss of biodiversity, gardeners everywhere are discovering these open-pollinated seeds, and planting them in their backyard edible gardens for long-term food security. Today, with the help of environmental entrepreneurs like William Martin, gardeners everywhere are enjoying the revival of these natural varieties.
This is nothing short of a revolution in the way America eats. And the revolution is growing into an army of millions of backyard gardeners who are discovering the delicious flavor of these old-time varieties, and sharing the joy and hope of growing good healthy food while caring for the earth - what could be better?
The garden is a place to feed our families and restore our lives, our communities and the world. When we plant an heirloom seed variety, when we grow our own food, when we celebrate good eating, when we save seeds, when we value and provide stewardship for the life-giving forces of the earth - we are directly engaged in growing a more peaceful and sustainable world for our children. Get yourself some natural seeds and join the revolution in your own backyard.
For additional information on the news that is the subject of this release, contact William Martin at 805-964-5810, or visit http://www.onemilliongardens.com.
About the companies featured in this article:
Edible Gardens Seed Company:
Edible Gardens is an heirloom seed company whose primary goal is to preserve and reintroduce these endangered old-time varieties back into the food chain. Edible Gardens currently offers a wide variety of heirloom seeds from around the world. Visit them on the web at http://www.ediblegardens.com.
Contact:
William Martin,
director of One Million Gardens
805-964-5810
###