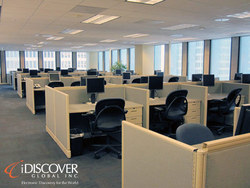 The truest measure of value in e-discovery today is the efficiency of the process
Sacramento, CA (PRWEB) October 22, 2009
iDiscover Global announced the addition of a state-of-the-art, staffed document review facility to its e-discovery services suite. The dedicated review facility is housed in a well-equipped office building in San Francisco's financial district, offering an ideal location for access to the Bay Area's top legal talent.
The new facility will be the company's West Coast center for hosted review. The review center will be a model going forward as iDiscover responds to requests for staffed, hosted review in other U.S. cities.
Since its founding in 2007, iDiscover has offered its clients the enormous processing power of its proprietary Invariant™ platform to deliver greater cost-efficiency for large e-discovery projects. The addition of the hosted review service further expands the iDiscover value proposition.
A critical component of the e-discovery process, document review is vital when cases involve immense volumes of potentially relevant documents. iDiscover's new review center can host a review staff of over 100 legal professionals and features optimized data security. kCura's industry leading Relativity™ software is in place to deliver the ease of use, flexibility, and scalability required to efficiently manage information on the most complex projects.
"The truest measure of value in e-discovery today is the efficiency of the process," said Brain Faudoa Director of Review Center Operations at iDiscover. "We're forging a more complete sequence of key e-discovery steps by integrating technologies, processes, and legal professionals that result in the most efficient workflow to not only produce favorable outcomes, but also to reduce man-hours and costs," Faudoa added.
iDiscover helps customers realize savings by putting highly qualified attorneys and paralegals in place and training them to master the review process rapidly. A recently completed project, which involved the de-duplication and review of some 600,00 documents was completed in just two weeks.
"Our client projected the process would consume six weeks and cost $500,000 to $600,000," said Faudoa. "The actual cost of the review came in at $250,000. The savings amounted to about $350,000. By any measure, that's an impressive example of efficiency at work," he said.
About iDiscover Global, Inc.
iDiscover Global Inc. services legal firms and enterprises facing large and complex e-discovery challenges. The company offers robust support at each step in the electronic discovery process from initial collection to final production. Expertise coupled with customizable services and technology enables streamlined processes that provide accurate results faster and more cost-efficiently.
###