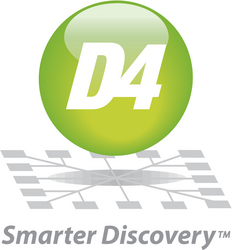 I know it's cliché but, it truly is such an honor.
East Rochester, NY (Vocus) November 11, 2010
D4, LLC has been recognized by the Rochester Business Alliance and KPMG LLP number five on Rochester's Top 100 list for 2010. The Rochester Top 100 is an annual program which ranks the fastest growing privately held companies in the nine-county, Upstate New York region.
"I know it's cliché but, it truly is such an honor." says John Holland, CEO of D4. "There are some very impressive companies on that list, run by very impressive people; Rochester people. To have D4 on the list, among such respectable businesses and at number five no less, is tremendously rewarding for all of us here at D4. We have grown significantly over the past couple of years while other companies in our industry have struggled. It's a real testament to all of the hard work done by everyone in the D4 family."
2010 is the first year that D4 has appeared on the Top 100 list. The company's number five ranking is indicative of just how far D4 has come over the last year. D4 is currently working with some of the world's largest companies and most prestigious law firms and is showing no signs of slowing down. In the past 12 months, D4 has opened new full service offices in San Jose, CA; Lincoln, NE; and Tampa, FL; and has plans for additional offices in Omaha, NE and Michigan.
Currently there are 85 people employed throughout the organization, including recent additions of highly regarded industry veterans and experienced Total Quality Management personnel. Further expansion is on the horizon for D4 both locally and nationwide. In addition to the newly opened offices, D4 recently acquired Layer One Media, another Rochester company in the electronic media duplication and replication services industry.
D4's headquarters will soon move into a newly renovated, 14,000 square foot building on Andrews Street in downtown Rochester. The new site has plans to include a state-of-the-art, high security data center which will provide a significant number of new full-time positions.
About D4, LLC
Since 1997, D4 has been providing discovery services to its clients. From forensic collections through early case assessment (ECA) to managed hosted review, D4 brings a unique approach to all of its engagements. With the aid of experienced project managers, industry experts, state of the art facilities and hardware, and best of breed technology, D4 handles end-to-end discovery services spanning the entire EDRM model.
D4's computer forensic team provides services to its clients comprising forensic collection, examination, and expert testimony. D4 also provides expert consulting and testimony services for 26(f) meet & confer conferences, litigation readiness planning, and ESI plan creation. D4 was recently awarded the "Relativity Best in Service" designation for its outstanding service and commitment to its clients.
D4 has full service locations throughout the United States in Rochester NY, Buffalo NY, Tampa FL, Lincoln NE, New York NY, and San Jose CA. D4 also maintains consulting offices in Colorado, Rhode Island, North Carolina, Michigan, and Washington DC.
About Smarter Discovery™
Smarter Discovery is about leveraging today's best technologies to one's advantage, while bringing clarity to e-Discovery cases and avoiding a deluge of irrelevant data and excessive costs. It is working with a partner who will exceed your expectations on every project and bring true expertise to the table.
###