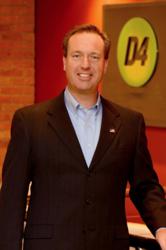 Joe is going to lead our sales efforts on the West Coast and will focus on strategic growth and building our team there
Rochester, NY and San Diego, Ca (PRWEB) May 08, 2012
D4, LLC, a national leader in litigation support and eDiscovery services to law firms and corporate law departments, today announced the appointment of Joseph Reges to the position of vice president of sales, Western Region. In this role he will build out D4's sales team in the western United States and will be responsible for driving D4's continued growth throughout the region.
With 20 years of experience in the legal and document management Industry, Reges has a proven record of developing sales personnel, deploying highly effective sales growth strategies and managing the confidential work product among disparate parties. He has held senior management positions with Merrill, Océ and IKON Office Solutions. Reges will report to John Holland, D4's CEO.
"Joe is going to lead our team efforts on the West Coast and will focus on strategic growth and building our team there," said John Holland, founder and CEO, D4. "We already have a strong team on the West Coast and I am confident that having Joe lead our effort will allow us to further expand and execute on our vision."
Reges joins D4 from Océ Business Services where he was responsible for sales in the Western Region. Prior to his time at Océ, he was vice president of sales at Merrill Corporation, where he had a track record of success in growing the business through the development and execution of a strong sales strategy. Additionally, he spent 12 years at IKON Office Solutions focused on selling to the legal community.
"D4 has a strong reputation for providing exceptional sales and support," Reges said. "I am pleased to be joining a company whose leadership understands the needs of customers and is focused on meeting expectations, turnaround times and quality requirements for customers."
Joseph studied business administration with an emphasis in marketing at Pennsylvania State University. He resides in San Diego, CA.