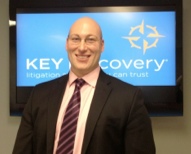 I can really help small to mid-sized law practices in Boston. My experience and solutions not only save money but free up attorneys' time making them more effective for their firm and clients
Boston, MA (PRWEB) January 28, 2012
Key Discovery, Boston's leading litigation support company, is pleased to announce the hiring of Senior eDiscovery Consultant Phil Iantosca. Phil comes to Key Discovery with impressive credentials. He has over a decade of experience providing in-house litigation support specializing in eDiscovery and managing litigation workflow.
Prior to joining Key Discovery's eDiscovery team, Phil was a Litigation Technology Specialist for an AM Law 100 firm before bringing litigation technology solutions in house to a global consulting firm as a Senior Litigation Technology Specialist. Most recently, he worked in a mid-size law firm managing litigation paralegals, designing cost efficient eDiscovery practices and improving client customer service in the eDiscovery phase of litigation.
When asked specifically how he can help Boston attorneys and law firms with their eDiscovery needs Phil said, "Having years of diverse experience in the eDiscovery field, most recently as a Litigation Support Manager for a mid-sized law firm, I know I can really help small to mid-sized law practices in Boston. My extensive experience and proven solutions not only save money but free up attorneys' time making them more effective for their firm and clients. I find every firm's litigation scenario is unique. I'm happy to share my knowledge and offer innovative real world solutions to each practice I work with. Call or E-mail [piantosca(at)Key-Discovery(dot)com] me to evaluate your specific situation and needs."
Phil is one of a handful of Certified Summation Trainers in the New England area and has conducted extensive Summation training sessions to lead case teams through the review process, to production and beyond to trial.
Because he has acquired such an extensive background as a litigation paralegal and eDiscovery specialist, he brings to Key Discovery a unique client understanding. He resonates with client profitability, quality control, and comprehends leveraging technology to increase firm profitability. Currently more time is spent on eDiscovery than any other legal task. Phil will lead the eDiscovery team that servers Boston law firms.
To view a list of comprehensive eDiscovery services, please visit http://www.key-discovery.com.
Key Discovery is the Boston market leader in eDiscovery and litigation support services. They offer a full menu of litigation support services for the Massachusetts legal community.
(617)-348-9360
###