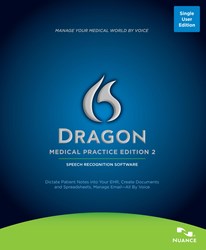 We value the success of our partners and do everything we can to help them grow their business
Mahwah, NJ (PRWEB) August 22, 2013
eDist Business is taking wholesale distribution of speech recognition solutions to a new level and helping resellers capitalize on the availability of Dragon Medical Practice Edition 2. As a value added distributor, eDist is offering customized technical support, unlimited access to a collection of educational resources and complimentary marketing pieces that highlight Nuance's $100 Off promotion. With the reinforcements that eDist provides, resellers are able to deliver a superior level of service to their customers and position themselves as industry leaders.
"We value the success of our partners and do everything we can to help them grow their business," said Mike Whalen, Vice President of eDist. "The availability of Dragon Medical Practice Edition 2 creates the perfect climate for resellers to increase their profitability. This technology is in high demand by physicians seeking to maximize the profitability of their medical practice. We provide our partners with the tools they need to exceed customer expectations and build brand loyalty."
The Dragon Medical Practice Edition 2 upgrade introduces an advanced level of features including customizable macros, hidden dictation mode, flexible voice input options, progression analytics and an expanded medical vocabulary that now includes over 90 specialty and subspecialty categories. The new software is 99% accurate out-of-the-box; however, with proper implementation and training that number quickly moves closer to 100%, which has translated into the best speech recognition experience for hundreds of thousands of physicians worldwide. Physicians are now able to document a patient encounter naturally, using their own words, to summarize every element of the interaction while simultaneously reviewing patient charts, x-rays, and flow sheets. The need for unnecessary navigation between screens has been virtually eliminated and the time saved is considerable.
The addition of these features, which are ultimately more conducive to integration within an EHR system, are enabling resellers to capture additional revenue through customer relations by providing expert technical support and training for Dragon Medical Practice Edition 2. In addition, resellers who take action before September 30, can leverage relationships with their current Dragon Medical Practice Edition users and extend Nuance's $100 off promotional price on upgraded software. Selling upgrades is a great revenue-building opportunity for resellers. Acting as a consultant, resellers can identify the full spectrum of products their current customers may need them to provide to ensure efficient workflows that save clinicians time and money.
eDist is the only Dragon Medical Practice Edition 2 distributor providing best-in-class technical services including access to an extensive database of educational resources and a dedicated team of speech recognition consultants. Only eDist partners can present a full menu of support services to their customers, incorporating installation, customization, training and 24/7 access to troubleshooting resources.
eDist is also the only wholesale distributor that offers an exclusive relationship with an elite marketing agency. LW Marketing provides superior branding strategy and collateral at no charge to qualified eDist resellers. The marketing team at LW consists of talented professionals skilled in the arts of graphic design, content creation and brand awareness. In addition, LW Marketing has a full understanding of the intricacies associated with speech recognition solutions so you don't have to spend time explaining your business.
For companies who want to buy Dragon Medical Practice Edition 2 wholesale, eDist Business is the number one distributor in the U.S. for speech recognition products and is considered the 'top of mind' solution by resellers when it comes to exceptional distribution, training, and marketing support. Become a Dragon Medical Practice Edition 2 reseller today and take your business to the next level.
For more information about Dragon Medical Practice Edition 2 and other eDist products and services, visit http://healthcare.edist.com/.
About eDist:
eDist Business, LLC is celebrating their 40th anniversary of serving the independent Reseller. As the Premier Value Added Distributor in the Speech Solutions Industry, they offer state-of-the-art technical support, professional logistics, and cutting edge marketing to assist Reseller Partners to grow their business with the personal touch of an independent distributor. Their team of experienced, technical sales staff, selected for their excellent skills and ongoing product knowledge, take pride in serving a Reseller's every need. eDist's diverse product lines and depth of inventory offer one-stop shopping at competitive prices enhancing their Reseller's profitability and making doing business easier. For more information about eDist Business, visit their website at http://www.Business.edist.com/.