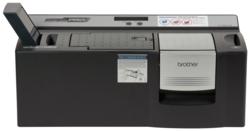 The Stampcreator PRO is a revolutionary machine
Mahwah, New Jersey (PRWEB) June 05, 2013
eDist Business, a leading office products wholesaler, has announced that they will present a free webinar explaining how resellers can increase their revenue with the Stampcreator PRO. The webinar, "How to Grow Your Revenue with the Stampcreator PRO," is scheduled for Wednesday, June 12, at 10 am – 11 am CDT.
This educational webinar will inform resellers about the Stampcreator PRO's product details, its specific return on investment, and its free marketing kit offered by eDist Business. It will also provide a full product demonstration of the Stampcreator PRO's simplicity and speed.
With over 40 years of experience, they are known for serving independent resellers with training and certification for several industry-leading manufacturers. Their business solutions division has been a legacy Brother distributor since 1989, and this partnership established eDist Business as the premier North American distributor of Brother office products.
The webinar is meant to highlight the great opportunity that the Stampcreator PRO offers resellers. If resellers have customers that sell to medical offices, schools, government offices, or just about any other business, the Stampcreator PRO (#SC2000USB) offers them the opportunity to instantly create custom stamps, rather than having customers wait for stamps to be shipped. In addition, if resellers sell to large organizations, such as hospitals, the customers may want to purchase their own Stampcreator PRO if they have a regular need for new stamps.
"The Stampcreator PRO is a revolutionary machine," says Michael Whalen, Vice President of eDist. "Companies benefit from its ability to save a great deal of time. Instead of waiting for days, customers can have their stamps in minutes. This on-demand capability helps generate traffic and prompt stamp sales for companies."
As a Stampcreator PRO distributor, eDist Business recognizes the advantage for resellers. The Stampcreator PRO opens opportunities for resellers to provide a solution for businesses that can sell the Stampcreator PRO to their customers. Resellers can turn the Stampcreator PRO into a profit generator with these opportunities. And eDist Business seeks to assist resellers and businesses generate a profit by offering them a complimentary marketing kit that helps sell more stamp solutions.
If anyone is interested in taking advantage of this opportunity by attending the free webinar, they may sign up for the event here.
For more information about the webinar on June 12 and for more info on becoming a Stampcreator PRO reseller, Brother office solutions, or how to increase business revenue through eDist, North America's leading office products wholesaler, please visit business.edist.com.
About eDist:
eDist Business, LLC is celebrating their 40th anniversary of serving the independent reseller. As the premier value-added distributor in the speech and office solutions industries, they offer state-of-the-art technical support, professional logistics, and cutting-edge marketing to assist reseller partners grow their business with the personal touch of an independent distributor. Their team of experienced, technical sales staff is selected for their excellent skills and ongoing product knowledge, and they take pride in serving a reseller's every need. eDist's diverse product lines and depth of inventory offer one-stop shopping at competitive prices, enhancing their reseller's profitability and making doing business easier. For more information about eDist Business, visit their website at http://www.Business.edist.com.