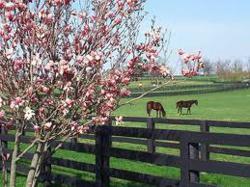 We are proud to air in Kentucky's second largest city - Lexington.
Coral Springs, FL (PRWEB) January 30, 2013
Editions with Terry Bradshaw expands its media markets to include Lexington, Kentucky. The city is known world-wide as having fertile, rich Bluegrass soil which is perfect for breeding the champion horses that race nearby. It is affectionately called "Thoroughbred City" and welcomes millions of visitors each year for equine-related games. The award-winning program airs in "Bluegrass Country" on February 2nd, 3rd and 9th on ABC WTVQ-T.
Lexington is the second largest city in the state and is home to major name brands JIF peanut butter, Amazon, Lexmark and Toyota. It is a major corporate hub which keeps its workforce strong, steady and diverse. It is strong in government and technology jobs making it one of the most stable local economies in the nation. The city is proud of its educational facilities and boasts that its area code of 859 spells out UKY for the city's favorite school. Editions TV, hosted by one of America's most popular sports celebrities, is pleased to air in horse-friendly Lexington.
Terry Bradshaw is well-known for being a fun-loving sports analyst and serious television show host. His 14 year career in professional football gave him four Super Bowl wins and an induction into the Hall of Fame. Bradshaw retired in the mid 1980's and he was worked continuously in the sport as a national television network commentator, analyst and co-host. His down-to-earth personality and sense of spontaneous fun are two of the reasons why he is a favorite on the motivational speaking circuit and on late night talk shows. In addition, Bradshaw is a best-selling author, singer and actor.
Producers of the informative program scan the country and the globe to find and share compelling stories for the audience. Editions with Terry Bradshaw covers topics which reflect the interests of the people such as family recreation, credit and debt solutions, as well as exploring offbeat places to visit. The show films on location in the United States and Canada, and is broadcast on regional and national cable television networks. Find more information it and its host at editionstv.com or on Facebook and Twitter.