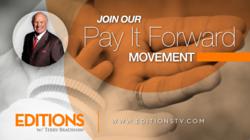 Join us as we crate a ripple effect of kindness acts around the world.
Coral Springs, FL (PRWEB) April 06, 2013
Pay It Forward is the act of repaying a good deed someone receives to others instead of the original deed giver. It is such a powerful movement that a film was made about it and an organization was created. Many people are inspired to help others every day. The Editions TV Associate Producers were justly inspired when they received a bonus to do just that. The Pay It Forward Campaign for the award-winning television program is all about making the life of someone not known a little better by donating the bonus to them.
One twenty dollar bill can fill a gas tank, put food on the table, provide shelter to a homeless person, help provide clean water to impoverished areas, and do much more than that. In the words Executive Producer Paul Douglas Scott, "Regardless of how big the problems of the world may seem, each person can make a difference simply by taking the time to show love, appreciation and kindness to the people around them, and in this case helping someone out financially." The staff of the show is committed to making a life better locally and globally. So far, they have put smiles on the faces of many by donating a gift card to the wife of a deployed soldier, using the bonus to help cure an ill pachyderm, and have eased the financial worries of many locals. Read their true stories of how they made a life a little better and feel free to add yours. Editions TV encourages everyone to take the time to change a life and put a smile on the face of someone you do not know.
The informative program reaches more than eight million people every day. It is broadcast on many national and regional cable television networks throughout the United States and Canada. The show covers a variety of engaging topics and features interviews with compelling business owners. Learn more about it and its host on Facebook, Twitter, About.me and Google+.