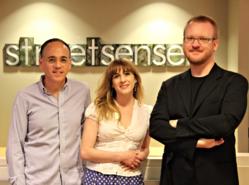 The formation of Edit Lab underscores our commitment to creating distinctive places and memorable experiences through multi-disciplinary collaboration. -Marc Ratner, CEO of Streetsense
Bethesda, MD (PRWEB) April 15, 2013
Streetsense, an integrated brokerage, design, branding, marketing, and development company announced today that Edit – the design firm behind some of Washington D.C.'s most acclaimed restaurants and bars – has become part of its team. Edit's portfolio includes The Satellite Room, U Street Music Hall, The Gibson, Dickson Wine Bar, American Ice Company, Hank's on the Hill Oyster Bar, Rogue 24, and Daikaya. Founders Brian Miller and Lauren Winter, longtime friends and Savannah College of Art and Design alumni, will head up the company's new arm, Edit Lab at Streetsense.
The addition of Edit Lab will bolster Streetsense's already powerful design scope and allow for further expansion to create unique and special environments both in the District and beyond. Edit Lab at Streetsense will now have the support of the entire Streetsense platform – from brokerage to branding to marketing – to continue to create the boutique passion projects for which they're known and expand into hospitality sectors they have yet to tap into.
"Lauren and Brian's unique architectural point of view, level of creativity, and hands-on approach make them a perfect fit at Streetsense. They share our belief that in a rapidly changing landscape, today's consumer is looking for authentic experiences – in their dining options, entertainment choices, and where they live. The formation of Edit Lab underscores our commitment to creating distinctive places and memorable experiences through multi-disciplinary collaboration," says Marc Ratner, Chief Executive Officer of Streetsense. Adds Miller, "We look forward to working with this tremendous team."
Opening in step with their debut at Streetsense, Edit Lab's two newest projects, Daikaya and Red Hen showcase the intensive creative process and natural style that they've become known for. At Red Hen, co-owned by Winter's husband, Sebastian Zutant, Edit Lab has created a warm and textured gathering place that is, quite literally, an extension of their home. Winter and Zutant live four doors down from Red Hen and look forward to watching Bloomingdale change from a charming residential area to a vibrant neighborhood.
Edit Lab consistently surpasses expectations as it turns concepts into bricks and mortar – from taking a research trip to Japan for Daikaya or hand aging reclaimed Nicaraguan wood for the flooring at Red Hen. This thoughtful attention to detail and handcrafted approach is perfectly in sync with Streetsense's mission and vision, making for a seamless union.
About Streetsense:
Streetsense is an integrated brokerage, architecture, design, branding, and development company specializing in retail, hospitality, restaurants and real estate. Established in 2001, Streetsense is the premier, and only truly full-service, retail-centric company in the real estate market today. For more information, please visit http://www.streetsense.com