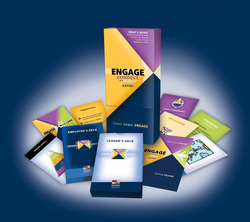 Employee engagement is essential to organizational success. We created the ENGAGE Card System to give leaders a way to connect with employees through conversation
Springfield, MA (Vocus) April 7, 2010
Edizen Inc. announces the release of the ENGAGE Card System, a simple and effective tool for leaders to encourage conversation with employees, strengthen connections and increase engagement. Designed by a panel of HR and leadership development experts, the ENGAGE Card System is a low-cost, high-impact solution for organizations to retain, develop and nurture talent.
In today's fast-paced workplaces with remote offices and telecommuting, leaders don't engage employees in regular face-to-face conversations. The result is employees feeling disengaged and disconnected from the organization. ENGAGE: connect at a higher LEVEL™ gives leaders a step-by-step, research-based structure to initiate meaningful conversations with employees. It uses a series of open-ended questions to facilitate discussion on five different levels that explore the organizations' mission, environment, work relationships and individual strengths.
"Employee engagement is essential to organizational success. We created the ENGAGE Card System to give leaders a way to connect with employees through conversation," said Sharon Gazda, President of Edizen, an organizational and leadership development consulting practice. "It's not easy for many leaders to initiate conversation. This system gets the discussion started so leaders can understand employees' perspectives and employees can understand the organization's mission."
Recent studies by Gallup and Towers Perrin provide evidence that companies with high levels of employee engagement achieve better financial results and are more successful in retaining their most valued employees. Findings support that engaged employees have a higher productivity, deliver better customer service, are easier to retain and more likely to stick with an organization through tough times. Additionally, more engaged employees are willing to invest the extra effort in learning and development, thus increasing the value of training dollars spent per employee.
"Engaging employees is a cost-effective way of improving the bottom line," said Gazda. "When employees understand the connection between their unique strengths and how their work contributes to the organization's mission, it leads to a higher level of engagement, and thus greater productivity."
The ENGAGE Card System is dynamic and modular to be used in any size organization or with any size team. It helps leaders listen to and learn from their employees as a way to improve overall team performance.
For more information visit http://www.engagecardsystem.com or edizenco.com or email info(at)engagecardsystem(dot)com.
About Edizen: Edizen is an organizational consulting, training and coaching company committed to helping large organizations improve performance through strategic human capital management. The company's organizational development and human resource professionals offer more than 20 years of experience in working with large organizations in both the public and private sectors. Edizen is located in Springfield, MA with two regional offices in Washington, D.C. and Atlanta, GA.
###