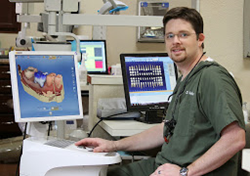 This is an important topic for me because I feel very passionately about what some generations have endured with dental appliances that are not up to current standards. - Mike Wallace DDS
Edmond, Oklahoma (PRWEB) September 29, 2014
When anyone from Wallace Family Dentistry sees a patient wearing dentures that are loose, ill fitting, and uncomfortable it is continually baffling to find what others have done to make dentures "work". So many patients have the mindset that dentures are not supposed to act and feel like real teeth, and Dr. Mike Wallace does not blow smoke – nothing will act and feel like natural teeth, however, dentures can in fact be comfortable, attractive, and most importantly work for the patients' needs. Dentures are not meant to last forever. Regardless of natural teeth or not, mouths are constantly changing. It is a lifelong process. Dentures on the loose? It may be time to look into some new options to feel better about eating, speaking and functioning on a daily basis.
Believe it or not, 27.27% of seniors over age 65 have no remaining teeth. There are so many people in society that live day in and day out without the ability to properly chew food, or speak with confidence. The bone in the body acts like muscle. When muscles are exercised, they grow strong. When bone is stimulated, it also becomes stronger. Bone of the jaw can only be stimulated by a tooth or by an implant. The connections between a tooth, or an implant preserve the size and shape of the bone. Bone needs the stimulation of the tooth roots to maintain its form, density, and strength. Studies have proven that the normal chewing forces that are transmitted from the teeth to the bone of the jaw are what preserves the bone and keeps it strong.
With the technology as advanced as it is today, new options for denture replacement can range anywhere from single tooth replacement to full arch restoration; standard removable dentures to implant retained hybrids. Wallace Family Dentistry offers every option and They love nothing more than being able to change patients' well being by restoring their smile.
Dr Mike Wallace is a Dentist in Edmond Oklahoma.