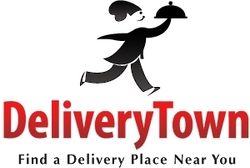 "DeliveryTown.ca takes the guesswork away from ordering delivery and takeout. My favorite restaurants have easy-to-use interactive menus; no more endless hours on the phone."
(PRWEB) August 5, 2010
DeliveryTown.ca, now Edmonton's largest online marketplace for food delivery restaurants, this week launched service connecting the one million residents of Edmonton to over 100 food delivery and takeout locations. This service not only provides Edmontonians with hassle-free online takeout food delivery ordering, but also rewards them with DeliveryTown Points, which can be redeemed for cash, prizes and soon airline miles.
DeliveryTown.ca makes it easy to find favorite restaurants, discover new places and try exciting dishes locally. It also allows you to identify favorite dishes and orders, allowing quick access to reorder.
"It's very simple and straightforward to reorder my favorites. A simple click, and I'm all set", said a satisfied DeliveryTown.ca customer.
New customers, for a limited time, will receive 1000 DeliveryTown Points for signing up. DeliveryTown.ca is also giving 1000 bonus points for every referral made. DeliveryTown Points can be redeemed for cash, prizes and soon airline miles.
"Now you can earn DeliveryTown Points on every order, which you can use for prizes, cash and soon airline miles, by just ordering takeout. Enjoy the convenience and get rewarded too", said a DeliveryTown spokesperson.
DeliveryTown.ca has over 4000 merchants across 15 Canadian cities, including Toronto, Montreal, Vancouver, Edmonton, etc. Merchant restaurants provide Japanese, Indian, Vietnamese, Pizza, Donairs, Sushi and Chinese takeout food delivery among others. DeliveryTown.ca has over 100 participating food delivery restaurants in Edmonton and is rapidly expanding.
(DeliveryTown.ca now serves Edmonton with its largest online marketplace for food delivery restaurants. It helps customers looking to order prepared meals and food products for delivery. Its extensive network covers over 100 restaurants in Edmonton, including restaurants, specialty and gourmet food restaurants.)
# # #