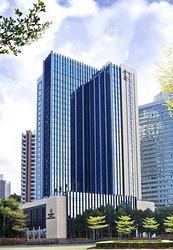 Shenzhen, China (PRWEB) December 7, 2009
Following its successful debut in Shenzhen last year, the hit musical "Cats" will meow again to an expectant audience at the Poly Theater on Nov. 28 and 29 in Shenzhen.
Apart from going to the theater, "Cats" fans and musical lovers alike may want to know more about the characters of the musical -- their real appearance, personalities, and experience from performing around the world. That chance is now being offered by JW Marriott luxury hotel in Shenzhen, China.
A partner of the Poly Theater and the exclusive hotel for the show, the JW Marriott Hotel Shenzhen will accommodate the complete 60-member cast. Accordingly, this 5 star luxury hotel in Shenzhen is promoting an exclusive "Cats" package. Guests who book rooms during the promotion period -- now through the end of November -- will receive a VIP ticket for "Cats" valued at 1,580 Yuan or 1,880 Yuan, for each room booked. In addition to seeing the show, guests will be able to dine with, talk to and take photos with the cast members.
To further reward guests, the Shenzhen luxury hotel is organizing a cocktail party with "Cats" characters on Nov. 25. At the grand event, 4 "cats" will join and entertain guests. They may also play some scenes from the musical and sing the famous song "Memory."
Composed by Andrew Lloyd Webber and based on "Old Possum's Book of Practical Cats" by T. S. Eliot, "Cats" first opened in London's West End in 1981 and then on Broadway, New York, in 1982. The musical won numerous awards and has been performed around the world in a variety of productions. It has been translated into more than 20 languages.
Officially opened earlier this year, the JW Marriott luxury hotel in Shenzhen offers 402 spacious rooms and suites to accommodate the needs of both leisure and business travelers. It also offers complete facilities for dining, meeting and unwinding for a range of occasions. The 5 star luxury hotel is conveniently located in the heart of the Futian District, amid upscale shopping and top business destinations. To see more of Shenzhen hotel deals, or to learn more about the JW Marriott Shenzhen hotel, please visit: http://www.marriott.com/hotels/travel/szxjw-jw-marriott-hotel-shenzhen/.
###