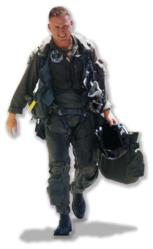 Helping Entrepreneurs Fight the Good Fight.
San Diego, CA (PRWEB) November 12, 2012
Popular Christian speaker and Marine fighter pilot, Ed Rush, who has been nationally featured on CBS Money Watch, FOX, NBC, and The LA Daily News is now honored to have his newest book, "Warrior: How to Fight for Your Faith, Family, Finances, and Future", reach the #1 Best Seller status in it's Christian category on Amazon not once, but twice.
"Warrior" hit the #1 best-seller list within days of release on Kindle, then 7 days later the paperback did the same. With the book's surprising and fast rise to the top of the charts, "Warrior" is already being called the next great Christian classic.
When asked about the success, former F-18 fighter pilot Ed Rush responded, "I am blown away. First, I am thankful for a very loyal following that started buying the book as soon as it was ready. Second, I strongly believe that the message of 'Warrior' has inspired people to take action and start fighting the good fight. I've had a flood of e-mails, letters, and posts from people around the world. They are reading 'Warrior' and then living for what they believe. I couldn't be more thrilled."
'Warrior' leverages Ed Rush's experience as a combat-tested F-18 fighter pilot and mixes it with his vast biblical knowledge. He applies the life of Christ to our daily lives. When asking Ed why he wrote the book, he said, "My goal in writing this book is simple. If just one reader (and that reader being you) decides to join the war to fight for faith, family, finances, and future, then the world will change and the gates of hell will tremble."
When asked what's next, Ed simply said, "Just wait about 2 weeks. That's when I am releasing "Warrior" in hardcover. Assuming we hit #1 again, that will be the trifecta."
'Warrior' by, Ed Rush is available through Amazon for $7.77.
About Ed Rush
Ed Rush is a speaker, author, and a decorated former F-18 fighter pilot. While in the Marines, Ed served as one of the country's leading instructors on aerial dogfighting and recently worked as a key player in the development of the new F-35 Joint Strike Fighter.
After two combat tours to Iraq, Ed left full-time active duty to speak, write, and spend more time with his family. He has achieved all of this despite possessing a below-average intelligence (case in point: Ed failed at his first attempt at kindergarten).
Ed Rush
http://www.CalledToVictory.com
Support (at) CalledToVictory (dot) com
619-292-2599
"I Support The H.O.M.E. Foundation"
About The H.O.M.E. Foundation:
The Helping Others Means Everything, or The H.O.M.E. Foundation, is a not-for-profit organization dedicated to helping our Family of Charities. Frankie Verdugo, President of The HOME Foundation, wants to help as many worthy charities as possible as they struggle during these tough economic times. Frankie Verdugo helps raise funds through luxury dream home raffles, home giveaways, prizes, and high profile celebrity events in Hollywood... "Our mission is to help charities reach their fundraising goals and to bring awareness to their praiseworthy causes."