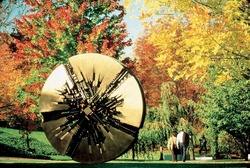 Ed Stone's inspiration has enabled the Firm to sustain itself over the years and has positioned EDSA with tremendous potential in the future
Fort Lauderdale, FL (Vocus) October 27, 2010
EDSA, an international planning, landscape architecture and urban design firm has recently been honored with the Landscape Architecture Firm Award in recognition of extended excellence in design and implementation that has lasting influences on the profession. Considered one of the finest achievements in Landscape Architecture, the award is given to a firm only once and is the highest award ASLA (American Society of Landscape Architects) can bestow upon a professional services firm.
EDSA was founded in 1960 by the late Edward D. Stone Jr., FASLA, in Fort Lauderdale, FL and has grown into an international practice with three domestic offices and one in Beijing, China. With projects in over 90 countries around the globe and a staff that represents 25 countries and more than 20 different languages, EDSA prides itself in promoting diversity of personnel, project type and region. The Firm recently celebrated its 50th anniversary and continues to embrace a global responsibility for stewardship of the land. "Ed Stone's inspiration has enabled the Firm to sustain itself over the years and has positioned EDSA with tremendous potential in the future," says Joe Lalli, President and CEO. "Our success is rooted in the fact that we have built more than just a business; it's a group of individuals with a collective passion for advocacy of the profession. We're very pleased that our efforts have been honored with such a prestigious award from ASLA."
The ASLA awards jury credited EDSA with creating some of the most influential works in the profession dating from the early days of the Firm to present time. Notable projects include PepsiCo World Headquarters in Purchase, New York, an innovative approach to the corporate campus environment and winner of the ASLA Landmark Award; Madinat Jumeirah in Dubai, UAE, a genuine tribute to Dubai's heritage; El Conquistador in Fajardo, Puerto Rico, which escalated Puerto Rico's tourism economy; Fort Lauderdale Beach Revitalization in Florida, an urban icon which stimulated private sector development; and Crosswaters Ecolodge in Guangdong Province, China, inspired by a mélange of environmental, social, economic and spiritual consciousness. The Firm Award stands out as a major milestone among EDSA's portfolio of over 240 industry awards.
EDSA is an internationally-renowned, full-service planning, landscape architecture, and urban design firm with over 200 employees. Established in 1960, the Firm has extensive experience in attractions and entertainment, campus and cultural, communities and new towns, ecotourism and environmental planning, hotels and resorts, as well as urban design. EDSA is headquartered in Fort Lauderdale, Florida, and has offices in Orlando, Florida; Beijing, China, and Baltimore, Maryland.
For further information contact: Jill Martinez, Marketing Director, jmartinez(at)edsaplan(dot)com
###