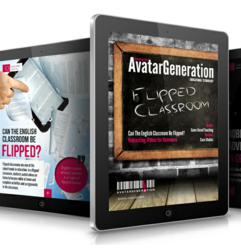 Teaching The AvatarGeneration is a one-stop resource to help digital teachers & parents embrace the power of educational technology
Dublin, Ireland (PRWEB) February 26, 2013
AvatarGeneration.com has announced the launch of 'Teaching The AvatarGeneration', a new monthly magazine exclusively for iPad. Packed with great content written by experienced teachers and educational technologists, the iPad magazine features a special game based learning section, interesting case studies, app reviews and everything to keep educators ahead of the curve with new and innovative edtech teaching practices.
Smart digital kids are growing up in an era where paper-based books are becoming outdated, and game based learning is becoming more popular. For educators, keeping track of the latest educational apps, learning games and edtech trends can prove difficult, and finding the time to explore new technologies is challenging. 'Teaching The AvatarGeneration' is a one-stop resource to help digital teachers & parents embrace the power of educational technology.
Editor Samantha Kotey says "Working with educational technology can be difficult with the huge range of different products on the market. We've launched this iPad Magazine to make life a little easier for time pushed educators".
The first issue launched in January 2013, reports on current edtech issues such as 'Why Kids Should Learn to Code', 'How Teachers use Minecraft', and 'Augmented Reality in Education'. It also features some great guides to using Google, Edmodo and Glogster in the classroom.
Issue two, out now, has everything you need to know about the flipped classroom including an in-depth look at assessment in game based learning, teaching with commercial off the shelf games, and an eye-opening article about holographic technology in education.
Pricing and Availability:
Download 'Teaching The AvatarGeneration', from Apple's Newstand for $1.99 in the Education category. The app includes the latest issue and back issues are available via in-app purchase for $1.99 USD (or equivalent amount in other currencies).
To download the 'Teaching The AvatarGeneration' app, visit:
https://itunes.apple.com/us/app/teaching-avatargeneration/id590919035?mt=8
About AvatarGeneration
AvatarGeneration is a fast growing news & media company specializing in educational technology. The website http://www.avatargeneration.com has become a go-to resource providing educators with information, listings and news on the latest edtech teaching tools.
Media Pack: http://www.avatargeneration.com/media/mediapack.zip