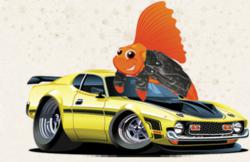 This is the guy that made $300,000 in college by investing in oil companies. I'm sure he made the best move for his wallet, literally.
New York, NY (PRWEB) May 14, 2012
RoadFish.com men's lifestyle and finance magazine applauded the choice of Facebook co-founder and billionaire Eduardo Saverin to renounce his US citizenship, a decision made public just days before Facebook's makes its stock market debut with an IPO on Friday. Saverin's move is speculated to be intentionally timed in order to reduce his tax bill and the taxes on his capital gains within the US.
Bloomberg.com, a publication which reports on business and financial market news especially economics, stocks, and personal finance such as savings and credit reports, featured an article written by Danielle Kucera, Sanat Vallikappen and Christine Harper hypothesizing that Saverin severed his ties with his US citizenship in order to save some serious money. The article reports that Facebook has been valued at nearly $96 billion, and may raise up to $11.8 billion through its IPO on Friday, already slated to be the largest in history for an internet company. Kucera, Vallikappen, and Harper wrote that Saverin currently owns about 4% of the company, which would be worth approximately $3.84 billion after Facebook makes its money off of the initial public offering.
Saverin currently lives in Singapore, and according to his publicist, Tom Goodman, "Eduardo recently found it more practical to become a resident of Singapore since he plans to live there for an indefinite period of time." The article goes on to report that the move is likely to aid Saverin in avoiding capital gains taxes, because Singapore does not have a capital gains tax like the US does, in addition to cutting his tax bill from the IPO profit. Saverin will still have to pay an "exit tax" on the capital gains of his stock holdings. Director of the international tax program at the University of Michigan's law school, Reuven S. Avi-Yonah, stated that renouncing one's citizenship before an IPO is a smart idea in terms of taxes. He stated, "Once it's public, you can't fool around with the value."
RoadFish.com's Senior staff writer commented about Saverin's decision, "He is a smart investor, and an intelligent businessman. I think that this was a brilliant move for him, and will save him God knows how much in taxes on what he's about to make from his 4% stake. I do wonder how much he had to pay in exit taxes, and whether that will even out in the money he's saving. But it seems that he knows what he's doing. This is the guy that made $300,000 in college by investing in oil companies. I'm sure he made the best move for his wallet, literally."
Roger Cheng of CNET reported that Facebook's IPO is set for this Friday. The social network company has kept itself private for years, however they are reaching upwards of 500 shareholders and by law, Facebook is required to open the company to the public once they hit that magic number. Reportedly, Facebook has set the IPO price between $28 and $35 per share. Using these numbers, the company is valued at $96 billion, or in other words the largest internet IPO and could even ultimately reach one of the biggest IPOs in history.
Eduardo Saverin is one of four co-founders of Facebook, along with Mark Zuckerberg, Dustin Moskovitz, and Chris Hughes. He was originally born in Sao Paulo, Brazil, and was raised in Florida. He attended Harvard University as an undergraduate, where he met Zuckerberg. The two launched what was originally called "The Facebook" in 2004, during Saverin's junior year. He served as the chief financial officers and business manager of the new social network. Internal conflicts lead to the filing of a lawsuit by Saverin against Facebook after his shares in the company were slashed, and the lawsuit was settled out of court although the terms of the settlement have not been disclosed. Saverin has lived in Singapore since 2009, and renounced his US citizenship in September 2011.
Even though Saverin no longer does work with Facebook, RoadFish.com is still proud of and happy for him with the social networking giant's upcoming IPO. RoadFish.com believes that any further success for both Saverin and the Facebook team is extremely well-deserved. RoadFish.com's editor is quoted as saying, "I was lucky enough to be asked to help Facebook back when they were first ramping up making money with the site. The company is staffed with tough, creative, exceptional people. I am really proud of what everyone has accomplished. The site has become an integral part of most of our lives, and will be for a long time to come. I am excited for my friends who still work there that they may all become very rich with an IPO." RoadFish.com plans to follow Saverin's adventures and further investments as he opens a new chapter of his life in Singapore.
The above-mentioned Bloomberg article reports that although Saverin made the move to renounce his US citizenship last September, the decision just went public a week ago when Saverin's name was listed along with others who have chosen to give up their US citizenship as of April 30th. The list was published by the Internal Revenue Service.
About RoadFish
RoadFish.com is an online men's lifestyle and finance magazine targeted toward men in their 30s and 40s that have already attained a moderate level of success in life, and are striving toward more. It goes over current events of interest to this group, such things as exciting adventures, making money, consumer interests, and holiday gift ideas as well as ways to make more and save more money. It is a publication owned by Purpose Inc.