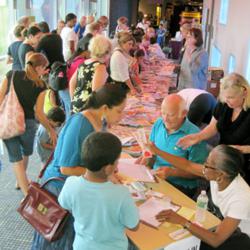 Here at Stepping Stones we are committed to making exceptional learning opportunities available for all children and families.
Norwalk, CT (PRWEB) February 20, 2013
Stepping Stones Museum for Children is proud to announce its upcoming events and programs for Children and Families. The museum is dedicated to providing children and families with opportunities to learn and grow in an interactive and stimulating environment. In the coming weeks and months, Stepping Stones will be offering events and special days for families to enjoy the museums' exhibits and activities.
On April 6 is Stepping Stones' annual Gala, The Kaleidoscope Ball: Learning is a Journey. The gala brings together museum friends, corporate partners and community leaders for a spectacular evening sprinkled with whimsy and sophistication. Featuring dinner, dancing, cocktails and an opportunity to take home unique auction items, the Kaleidoscope Ball is the region's premier event. Proceeds from this event support the museum's Open Arms initiative, which makes it possible for every child, family and school to enjoy the museum experience regardless of any physical or developmental challenges, language or the ability to pay. This year the Open Arms initiative will help bring more than 160,000 children and families into the museum.
Family Programs
Accessibility Days at Stepping Stones provide free admission to families of children with special needs. Families enjoy the museum's exhibits, mingle with other families and learn with their child in a safe and welcoming environment. Accessibility Day is every second Saturday of the month from 9:00 to 11:00 a.m. The museum also hosts an annual Accessibility Resource Day during which local and statewide organizations and agencies provide activities and answer questions.
Through sponsor generosity, Stepping Stones presents Get Into It! FREE, with no-cost admission evenings on the first Thursday of each month. From 5:00 pm – 8:00 pm, visitors can have full access to exhibits, gallery activities and educational events.
The Stepping Stones early childhood learning series, Captivating Classes, encourages a child's creativity, exploration and discovery with an amazing array of hands-on activities. While children will have a ball, they will also develop valuable motor, cognitive, language and social skills. Class members are encouraged to explore the museum galleries before or after class at no additional charge.
For adults, Stepping Stones provides Parent Zone Workshops, a free series of discussions and presentations on relevant parenting issues designed to support parents as guides of children's lifelong learning. Topics include child development, kindergarten readiness, health, media literacy, the environment and more. The workshops are held in the evening and require registration.
For more information on how to attend the Kaleidoscope Ball, Open Arms initiatives or other family programs, please visit the Stepping Stones website and check out the calendar of events for dates and times.
About the company:
Stepping Stones Museum for Children in Norwalk, Connecticut, is an award-winning, private, non-profit 501(c)(3) children's museum committed to broadening and enriching the lives of children and families. Located on five acres in Mathews Park, the LEED Gold certified museum encompasses five hands-on galleries, state-of-the-art Multimedia Gallery, Family and Teacher Resource Center, cafe and retail store. Stepping Stones provides a wide variety of fun family activities, activities for children, performances, and programs for meaningful learning experiences. For more information, please visit their website at http://www.steppingstonesmuseum.org