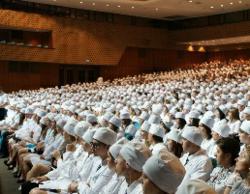 With each year, more and more students choose medicine as their career path
(PRWEB) September 07, 2012
After a thorough analysis the team of websites "How to Become an Anesthesiologist" and "How to Become a Physical Therapist" came to the conclusion that healthcare is one of the most popular decisions among high-school students these days. To meet the demand, "Top Medical Schools"(http://top-medical-schools.net/) was created, aiming to help students find their way through medical education.
Stan Ivanov says: "With each year, more and more students choose medicine as their career path. Despite the long and costly education, many young people compete for admission to medical schools. They are inspired by considerable salaries and attractive bonuses promised by this career choice. Allow me to refer to some statistical data collected by the Association of American Medical Colleges. According to their information, the number of graduates increase with each year: in 2007 - 16,140 total graduates, 2008 - 16,168, in 2009 - 16,468, 2010 - 16,835 and in 2011 - 17,364.
"Medical education is not only a long process, but also a very expensive one. - continues Stan. - Moreover, both the programs and the available scholarships are highly competitive. However, after students pass their certification exams, they can expect to be earning a considerable wage. On one of my websites, you can find an article with a list of best-paid medical jobs. Comparing it with other occupations, you can see that healthcare professions are situated on the top of the occupational ladder in terms of salaries" (All numbers are taken from the US Bureau of Labor Statistics and reflect data of May, 2010):

surgeons - 225,390$;
anesthesiologists - 220,100$;
oral and maxillofacial surgeons - 214,120$;
obstetricians and gynecologists - 210,340$;
orthodontists - 200,290$.
A big number of students has no idea what path to choose within healthcare. How to choose the best possible field? How to analyze all available options? What to take into consideration? http://top-medical-schools.net/ was created to answer all of these challenging questions. This site offers useful and easy-to-comprehend information on main medical specialties, and posts medical school rankings, jobs statistics, and general admission requirements. With access to this information, prospective students would be able to decide what is more interesting for them, and then search for more detailed information about a specific medical field.
For this, future students may focus their attention on websites "How to Become an Anesthesiologist"(http://howtobecomeananesthesiologist.com) and "How to Become a Physical Therapist"(http://www.becomingphysicaltherapist.com) and learn about the necessary educational steps, required tests and qualifications, existing schools and degree programs, available scholarship and grants, and, last but not least, interesting facts about this or that career.