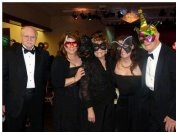 Mardi Gras is the theme; Students' education is the focus!
Tallahassee, FL (PRWEB) February 20, 2013
Jim's Pianos, serving Southern Georgia and the Big Bend Areas of Florida for more than 50 years, will support the Stubbs' Educational Foundation award for music education at SEF's Annual Variety Extravaganza Ball., The event which will be held on Saturday, February 23 from 6-10 p.m. at the Tallahassee Antique Car Museum.
Music education enhances a person's life and work. Therefore, Stubbs' Educational Foundation is glad to provide scholarships for music, dance and arts lessons, which propel a student into a lifelong learning adventure. After years of receiving these scholarships, applicants are further supported in their education with scholarships available to Tallahassee Community College. The vision of the foundation is to continue expanding these scholarships well beyond North Florida and South Georgia.
Foundation President Martha Stubbs shares the belief that "music instruction is a vital factor in the character development and well-being of all persons of all ages. It is the goal of SEF to make music more accessible in the community by providing music and academic scholarships for students in North Florida and South Georgia. At least 70 percent of the scholarships go to financially need-based recipients and the remaining to merit recipients. Through our community partners – Boys and Girls Clubs of the Big Bend, Boys Town of North Florida, Tallahassee Community College, Lighthouse Children's Home and Good Samaritan United Methodist Church – we have been able to enhance the lives of many children that may have never had the opportunity to learn music."
Stubbs' Educational Foundation awards nearly $50,000 in music and collegiate educational scholarships every year. Jim's Pianos and owner, Jim Sims, have been faithfully supportive since the inception of the foundation in 1994. Information on the foundation is available on their website at http://www.stubbsfoundation.org.
Interested parties can also become a supporter today by becoming a sponsor and or contacting Director Marianne Hernandez to become a Dream Maker. Become a Dream Maker by sponsoring one student scholarship for $1,500 or a commitment of $125 per month.
Tickets for the Extravaganza Ball are $50 and include a night of delicious cuisine, live music and dancing, as well as a silent auction. More information on the Extravaganza is available at https://www.facebook.com/events/489076271119877.
<br>About the company:<br>
At Jim's Pianos, they achieve a high level of customer satisfaction by upholding the principle that no service is final until the customer is completely happy. Owner James R. Sims has built his business based on a philosophy of exceptional service and fair prices. His expertise ranges from sales, to personal in-home tunings, and complete restoration of musical heirlooms. Manager Gina Marie Senters is a Tallahassee native with a Bachelors Degree and experience in Music Education and Music Ministry. She has a passion to see schools, homes, and houses of worship equipped with the best pianos possible. She works to provide professional and knowledgeable services which put Jim's Piano Customers first. For more information, visit their website at http://www.jimspianos.com.