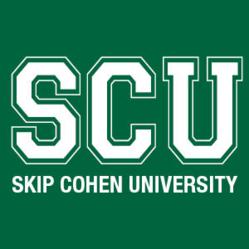 Referred to as one of the best educational programs in professional photography, this year's hands-on program takes place August 11-14.
Bradenton, FL (PRWEB) May 30, 2013
Skip Cohen University recently announced a new program to help make its acclaimed workshop series more affordable for aspiring and working professional photographers. "Save me a Seat" allows photographers to register now with a minimal fee, make a second payment on August 1 and then pay the bulk of the cost on October 1, sixty days after the program is over.
"Year after year this program has been referred to as life-changing," commented program founder Skip Cohen. "Well, we stand behind what people learn in technique, business, marketing and networking during the workshop. This new program gives them a chance to actually create additional revenue streams two months before the final bill is even due!"
This year's SCU Summer Session, previously known as Skip's Summer School, takes place just outside Chicago, August 11-14.
In addition to the benefit of Save Me a Seat, Venice Album, one of Italy's finest album companies, is offering each attendee a $200 credit on their Venice Album account good towards any order of $400 or more, good through the end of the year. Other exclusive offers will be announced in August from other Partners in the project.
"The goal of the entire faculty is to help photographers THRIVE, not just survive!" commented Cohen. "And, year after year, based on the feedback from attendees, we've been able to do just that!"
About SCU
"There's a fundamental misconception in photographic education right now. New photographers actually believe they can learn to be a photographer just watching videos and webinars. They can no more learn to be a professional photographer sitting in front of their computers than they could learn to drive a car just watching videos."
So SCU decided to do something radical. They're going back to basics. They're adding to the online education effort with human handshakes, telephone calls, meetings that happen face-to-face in a room full of people who share a passion for photography.
SCU is sponsored by: Drobo, ILFORD, Panasonic's LUMIX G Team, Manfrotto, X-Rite Photo, Profoto, Photodex, Resource Magazine, SmugMug, Tamron USA and Italy's Venice Album.
For more information about Skip Cohen University, visit SkipCohenUniversity.com or contact Skip Cohen directly at skip(at)mei500(dot)com.