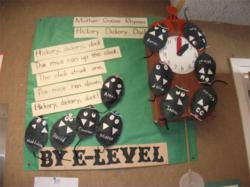 San Francisco, CA (PRWEB) February 14, 2013
Mother Goose School celebrates its roots this February with a full month of Mother Goose Rhymes. Rhymes are an excellent way for young children to learn and appreciate the many uses of language, the rhythm of words, sounds, rhymes, and how to relate this to pictures. Craft, construction and art activities will surely include Humpty Dumpty, the Three Blind Mice and "the mouse ran up the clock" (ex: Hickory Dickory Dock). Mother Goose School teachers will have the children practice, sing and recite nursery rhymes in anticipation of an end of the month in house presentation-for each other. Performing in front of peers is great public speaking practice and can help the children become comfortable performing in front of familiar faces.
"Celebrating Valentine's is an annual event that all the children look forward to," explains Charles Dennis, the program director at Mother Goose School. "There's a lot of preparation for this event, with teachers decorating classrooms, the cook preparing a special Valentine's treat, and parents and children preparing cards together. We ask parents to participate in this process, and help their children sign cards for Valentine's Bags."
Mother Goose School also welcomes the opportunity to celebrate the Year of the Snake, for Chinese New Year. Children will put together a special Snake craft to take home before the holiday.
Children will also learn about Presidents, Lincoln and Washington, and how they helped the country become a more perfect union. Parents will enjoy early American crafts, like a Lincoln's log cabin replica model with popsicle sticks.
Mother Goose School will be having their yearly vision screening for the children on Tuesday, March 5 and Wednesday, March 6 at 9:00 a.m. This is an important service provided by Prevent Blindness of California and Mother Goose School. "We are grateful to have them volunteer their services", explained Dana Hemberger, owner of Mother Goose School. They do a great job screening our children and making sure they have healthy vision.
About the company:
Mother Goose School has been serving the childcare needs of families of San Francisco and the Bay Area as a day care and preschool facility since 1951. Mother Goose School is open to all children between the ages of two and six. The primary focus of the school is to instill in each child a lifelong enjoyment of the learning process. The school is comprised of five developmental levels ranging from nursery through Kindergarten age. Mother Goose School is open 7:00 AM to 6:00 PM, Monday through Friday. They prepare and serve a hot, well-balanced lunch each day, as well as a nutritious mid-morning and mid-afternoon snack.
Mother Goose School believes that the development of the child's mind, body and character is equally important. In order to educate the whole child, their daily program includes instruction that is based on a balanced, all-inclusive curriculum. This preschool curriculum is specifically intended to provide a firm foundation for each child in preparation for any public or private school. The daily program at Mother Goose School includes Academics, Art and Crafts, Physical Education, and Social Skills. Music instruction is shared with morning classes twice weekly. Classrooms are equipped with child-friendly music. They also offer toilet training in our nursery program and a naptime every afternoon.
For more information, please visit their website at http://mothergooseschool-sf.com or call them at (415) 424-4839. They tour prospective parents with their children daily, at 10:00AM and 3:00PM.