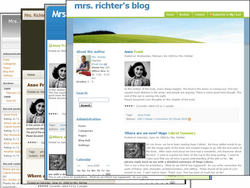 SVB has always seen value in the high growth portion of the tech industry and we are very pleased to be associated with a market leader in the financial sector
New York, NY (PRWEB) September 9, 2009
eChalk begins the school year with a 1.5 million dollar note from Silicon Valley Bank Financial Group (SVB), an institution widely recognized for its dedicated support of emerging technologies.
"SVB has always seen value in the high growth portion of the tech industry and we are very pleased to be associated with a market leader in the financial sector," says Martin Brutosky, CEO and COO of eChalk.
The capital infusion supports eChalk's continued growth and expansion, as the company advances toward its goal of empowering educators to "think beyond the building". Celebrating 10 years in business this year, eChalk's web-based communication tools are designed specifically for K-12 schools and provide online communities where cutting-edge student learning methods, parent involvement and administrative leadership and oversight flourish.
"This recapitalization will enable us to enhance our service to hundreds of thousands of educators around the US and is part of the capital structure of eChalk's high growth strategy," says Brutosky. The 1.5 million in funding from SVB Financial Group provides eChalk with the necessary capital to expand its resources, adding more professionals and equipment to its arsenal of tools designed to bring down communication barriers in classrooms and school communities nationwide.
For more information, visit eChalk at http://www.echalk.com or call (800) 809-3349.
eChalk helps school leaders, teachers, students and parents safely use the web to connect to learning, information and each other. Founded ten years ago in 1999 and headquartered in New York City, eChalk hopes that by communicating more effectively among their stakeholders, K-12 school communities can better support and reach 21st century teaching and learning goals. Built with teacher and student success in mind, eChalk is an instructional support system that streamlines communication in one secure, integrated and scalable online environment for everyone in a given school, district, ESA or state. eChalk is available as a web-delivered software-as-a-service or as a locally-hosted enterprise solution. Whether your schools communicate with a few or a few million, eChalk's easy-to-use and customizable tools - including websites, email, intranets, lesson planners and Web 2.0 technologies - help engage students, address individual learning needs, cultivate 21st century skills and, provide necessary support for staff development to make a difference.
Media Contact
Ian Bryan
828.242.1868
###