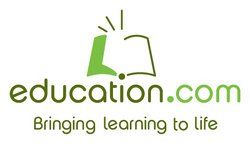 Each year the WebAwards receives amazing entries from around the world that show impressive creativity and functionality
Redwood City, CA (Vocus) September 17, 2009
Education.com, a leading web destination for parents of school-aged children, today announced that it has been awarded The Web Marketing Association's 2009 WebAward for Outstanding Website. The annual international WebAward is the standards-defining competition that sets website excellence benchmarks for ninety-six industries. Education.com earned high marks in each of Web Marketing Association's seven criteria for a successful Website: design, copy writing, innovation, content, interactivity, navigation, and use of technology.
"We're thrilled to receive the 2009 WebAward for Outstanding Website and I congratulate the other companies we join on this year's prestigious list of winners," said Ronald Fortune, CEO of Education.com. "I'm particularly excited about the WebAward because it recognizes that while the look of a website and the amount of traffic it gets are critical, they are not the only important factors of its success. Our receipt of this award acknowledges the extraordinary efforts of the entire Education.com team over the last several years. They come to work every day with a commitment to make life better for parents and their kids, and this kind of recognition helps affirm that we're succeeding in this goal. We share the honor of this award with our partners, advertisers, and investors with whom we work to support parents' participation in their children's education."
The 2009 WebAward competition was judged by a team of independent Internet professionals representing a variety of relevant disciplines of website development. Judges included members of the media, advertising executives, site designers, creative directors, corporate marketing executives, content providers and webmasters. "Each year the WebAwards receives amazing entries from around the world that show impressive creativity and functionality," said William Rice, President of the Web Marketing Association.
About Education.com: From kindergarten readiness to college prep, Education.com is the leading destination for involved parents. More than a million parents a month come to Education.com to get the information they need to support their children's unique educational and developmental needs, and to find ideas for how to make learning more fun. The company has teamed up with leading universities, nonprofits and research organizations to offer highly credible parenting, developmental, and educational information. The site also offers worksheets and activities, community resources, access to best-of-breed educational services and SchoolFinder - a tool that gives parents comprehensive data on the nation's 125,000 public, private and charter schools. Education.com was founded in 2006 and is headquartered in Redwood City, CA. The company is backed by leading venture capital firms: Azure Capital Partners, TeleSoft Partners and California Technology Ventures. For more information, please visit http://www.education.com.
About the WebAwards: Now in its 13th year, the annual international WebAwards competition sets the standard of excellence in 96 industry categories by evaluating Web sites and defining benchmarks based on the seven essential criteria of successful Web site development. The goal of the Web Marketing Association, sponsor of the WebAwards, is to provide a forum to recognize the people and organizations responsible for developing some of the most effective Web sites on the Internet today. Entrants benefit from a Web site assessment by a professional judging panel and the marketing opportunities presented to an award-winning Web site. For more information, visit http://www.TheWebAwards.org.
Media Contact:
Kat Eden
Education.com
650.366.3380 X2218
###