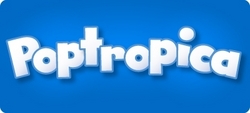 When kids visit Poptropica, they find a virtual world designed just for them where they can safely interact, compete and have fun
Boston, MA (PRWEB) March 3, 2010
The reality television craze comes to Poptropica's virtual world for kids this month with the early access launch of "Reality TV Island," available exclusively for Poptropica members before its release to the public on March 24, 2010.
Everyone who lives on the island dreams of being a contestant on the new hit show, "Reality Island." Poptropicans who visit are whisked away by helicopter to compete against other contestants in a series of fast-paced mini-games, hoping to "wow" the audience and become the ultimate champion of the island.
"When kids visit Poptropica, they find a virtual world designed just for them where they can safely interact, compete and have fun," said Jess M. Brallier, publisher of Poptropica. "With Reality TV Island, they will have the experience of competing against their fellow contestants for fame, just like on 'Survivor' or 'American Idol,' but in an environment where their personal information is never shared. This new island is just one of many new islands for exciting online fun for kids planned for Poptropica this year."
Poptropica Islands are always free for visitors to play - membership or credits are not required for kids to be able to enjoy and solve the many islands that make up Poptropica. In fact, kids earn 100 free credits when they complete islands, and 50 free credits when they complete mini-quests, and can use these credits to redeem items in the Poptropica Store.
Poptropica Membership gives kids early access to new islands, so they can be among the first to play and complete the new island weeks before everybody else. Early access to the newest islands is only available through membership and can no longer be purchased with credits. Membership also gives kids unlimited use of all Costumes and Gold Cards in the Poptropica Store. This allows members to customize their Poptropicans by choosing from their favorite costumes, special abilities and effects - electrifying their Poptropican, creating a meteor shower, spraying silly stream and much more. Parents can buy a Poptropica membership for their kids for $2.99 for one month, $7.99 for three months or $12.99 for six months.
Every month, more than 7 million kids explore Poptropica's virtual islands. The players of this virtual world for kids come from more than 70 different countries and have their Web browsers set to more than 90 different languages, ranging from Spanish and Sanskrit to Vietnamese and Croatian.
About Poptropica (http://www.poptropica.com)
Poptropica is a virtual world in which kids explore and play in complete safety. Every month, millions of kids from around the world are entertained and informed by Poptropica's engaging quests, stories and games.
Kids create a "Poptropican" character to travel the many islands of Poptropica and use gaming literacy to enjoy a narrative that is often rooted in factual history. Problem-solving skills are honed as kids discover and solve mysteries unique to each island.
There are always new areas to explore in this ever-expanding world where kids can collect objects, read digital books and comics, watch movies, and compete in head-to-head competition. Parents can always trust that their children are playing - and learning - in a safe online environment.
Poptropica is published by Family Education Network, a part of Pearson, the education, services and technology company. Pearson's other primary operations include the Financial Times Group and the Penguin Group.
###