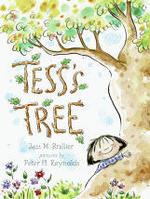 Once again, the success of 'Tess's Tree' demonstrates that good publishing is not defined by the medium, but rather by the quality of the story and its ability to engage kids in reading
Boston, MA (PRWEB) August 25, 2009
Today marks the print debut of another popular online work. "Tess's Tree," which was originally published in 2007 on Funbrain.com, the world's largest, most popular site of educational games, was released in print today by Harper Collins. This latest book to move from online popularity to bookshelves follows the bestselling "Diary of a Wimpy Kid" books, by Jeff Kinney, which were also introduced to young readers on Funbrain. Written by Jess M. Brallier, and illustrated by children's book author and founder of FableVision Peter H. Reynolds, "Tess's Tree" has had more than 25 million readers online and the number grows daily.
"Once again, the success of 'Tess's Tree' demonstrates that good publishing is not defined by the medium, but rather by the quality of the story and its ability to engage kids in reading," said Brallier. "Just like a movie or television show can build a brand or character that then drives book sales, a Web site can build readership as well. And more readers is always good news."
"The Diary of a Wimpy Kid" series has seen unprecedented success in its move from online to print. Soon-to-be a major motion picture, "Diary of a Wimpy Kid" first debuted online five years ago. The online edition has been read by more than 80 million children, and the print version published by Amulet, an imprint of Harry N. Abrams Publishing, has held multiple positions on "The New York Times Book Review Children's Best Sellers List." Plus, author Kinney was named one of "Time" magazine's 100 most influential people of 2009.
Brallier was inspired to write "Tess's Tree", by a friend's daughter who held a funeral for a tree that had to be taken out of her yard. Described by "Kirkus Reviews" as "a tender tale of love and loss," the picture book tells the story of how the little girl deals with her grief and anger when her family has the old tree cut down. Tess prepares a funeral in her tree's honor. Dozens of friends and neighbors attend the service to pay their respects. They tell how they climbed the old tree, swung from its branches and even fell in love underneath it. And, in the end, Tess thinks about what her tree had done for so many people and she is okay.
Funbrain continues its efforts to reinvent children's publishing and establish itself as the largest publishing-focused site for kids on the Internet. In the future, the site will identify and feature new original works of all genres, including fiction, nonfiction, games and comic strips online.
About Funbrain
Funbrain is one of the top five most-visited kids learning sites on the Internet, featuring original and licensed online "books," comic strips, and over 50 fun and interactive learning games for kids, parents and teachers. Over 150,000 teachers use Funbrain games to help their students build math, reading and language skills that correlate to national testing standards.
Funbrain is part of Pearson, the world's largest integrated education company. Pearson's other primary operations include the Financial Times Group and the Penguin Group.
###