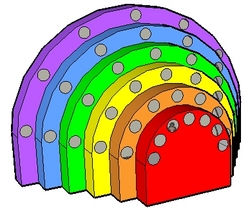 These books are exactly what I was looking for - with step by step instructions and lots of clear illustrations
Washington, DC (PRWEB) December 9, 2008
It's that time of year, and the airways are filled with ads for the latest, greatest toys. Meanwhile, people are looking for inexpensive gifts that will provide long-lasting enjoyment and build some brain cells. 3DVinci introduces fun, educational gifts for less than twenty dollars, for kids in elementary school, middle school, and high school.
3DVinci's ModelMetricks project-based books and free online activities use Google SketchUp, a free, award-winning design application used by architects, designers, mathematicians and teachers. The ModelMetricks books are written by 3DVinci creator, SketchUp expert, and mother-of-five, Bonnie Roskes. Ms. Roskes' eight-year old daughter contributed to some of the project ideas in the books. Together, 3DVinci and Google SketchUp help build creativity and design skills, as recently reviewed in PCWorld.
"These books are exactly what I was looking for - with step by step instructions and lots of clear illustrations," said Phil Shapiro in his PC World book review. "Children who construct the 3D drawings in these books will gain stronger and stronger skill... Roskes' creativity flows so strongly that she even wrote an entire book on how to use Google SketchUp for creating jigsaw puzzles and various kinds of word puzzles, including a spinning word puzzle. The software programmers who created SketchUp could never have imagined this unanticipated use for their software, but Roskes did."
For children, grandchildren, students, nieces, nephews, and neighbors that enjoy creating, drawing, and designing, 3DVinci makes learning fun. Kids may not ask for education gifts, but you won't believe how much fun they can have while learning design and spatial relations skills. And with books priced from $15 to $20, utilizing free SketchUp software that can be downloaded to your home personal computer or Mac, 3DVinci makes a very recession-friendly Christmas gift or Hanukkah gift.
For more information:

###