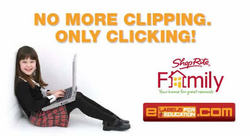 ShopRite has long been known for supporting the communities we serve, and this is another opportunity for us to give back to our local neighborhoods.
Keasbey, NJ (Vocus) March 9, 2010
Introducing the e-Labels for Education (e-LFE) program at ShopRite®! Now shoppers can electronically collect Labels for EducationSM points - no more clipping, only clicking.
As the first supermarket in the Northeast to launch the e-LFE program, ShopRite stores in New York, New Jersey, Connecticut, Pennsylvania, Delaware and Maryland have teamed up with Campbell to help local schools collect e-LFE points which can be redeemed for educational merchandise.
Shoppers simply sign up at http://www.ShopRite.com/eLFE and earn e-LFE points for their chosen school every time they shop for their favorite products, including Campbell's soups, Chunky soups, SpaghettiOs pasta, V8 and V8 Splash juices, Prego Italian sauces, Swanson broth and any of the delicious Pepperidge Farm cookies, breads or Goldfish crackers that families love.
"ShopRite has long been known for supporting the communities we serve, and this is another opportunity for us to give back to our local neighborhoods," said Joe Sheridan, Executive Vice President at ShopRite/Wakefern. "We're proud to be the first retail partner in the northeast region to join forces with Campbell and e-Labels for Education. It's an easy way to make sure our kids have everything they need to succeed in school."
"We are pleased to be launching the e-Labels for Education program at ShopRite. As the longest running program of its kind, Labels for Education has established a connection with schools and communities throughout the U.S., and the e-Labels launch at ShopRite marks an exciting way to expand the reach of the program, allowing even more schools to benefit," said Anne Pizarro, Director of Campbell's Labels for Education.
Here's how it works:
Click. Customers visit http://www.ShopRite.com/eLFE to register and set up an account by entering their ShopRite Price Plus Club Card Number, in addition to answering a few simple questions. Then they choose which school(s) will receive points. And, they will receive 100 bonus points from ShopRite automatically just for signing up.
Earn. Now, every time they shop at ShopRite and purchase any eligible Labels for Education products, total points earned will be automatically credited to their school's Labels for Education account.
Free Stuff. The school can then redeem any points earned for free educational merchandise and equipment available through the Labels for Education catalog at http://www.labelsforeducation.com/pdf/merchandise_catalog.pdf.
About Labels for Education
Since 1973, Labels for Education has been committed to helping America's families support education and schools. Collecting UPC's to exchange for tools and equipment that support youth based enrichment programs helps nurture children's lives through the arts, athletics, and academics. During this time, over $110 million worth of educational merchandise has been awarded to schools across the country.
About ShopRite
ShopRite supermarkets are members of Wakefern Food Corporation, a retailer-owned cooperative, based in Keasbey, NJ. Through the more than 200 stores located throughout New Jersey, New York, Pennsylvania, Connecticut, Delaware and Maryland, ShopRite serves more than five million customers each week. A long-time supporter of key community efforts, ShopRite was named Feeding America's (formally named America's Second Harvest) Grocery Distributor of the Year (1999) for its ShopRite Partners In Caring program, a year-round initiative dedicated to fighting hunger in the communities served by ShopRite stores. Since its inception, ShopRite Partners In Caring has donated more than $22 million to 1,500 worthy charities and food banks.
###